12/05/2021 - 5 minute read
The Sheffield Guide: GL Digital Facebook Ads Review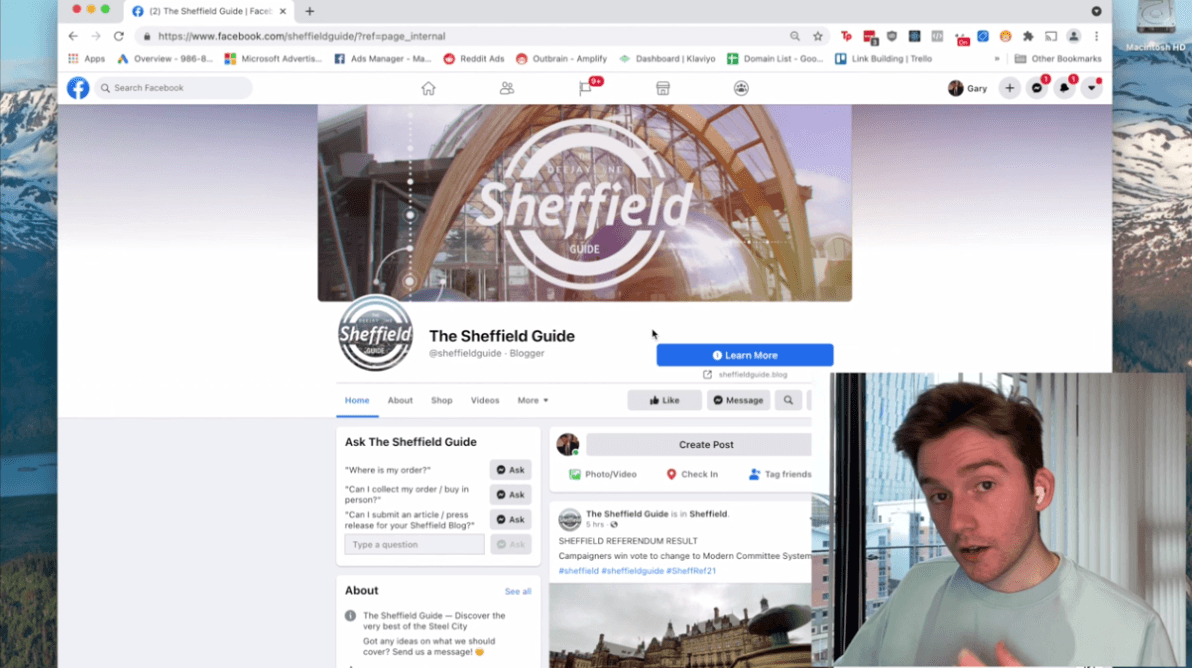 Hi guys it's Lewis from GL Digital, and I'm here today with another Facebook ads review video.
Today, it's the Sheffield Guide.
The Facebook Page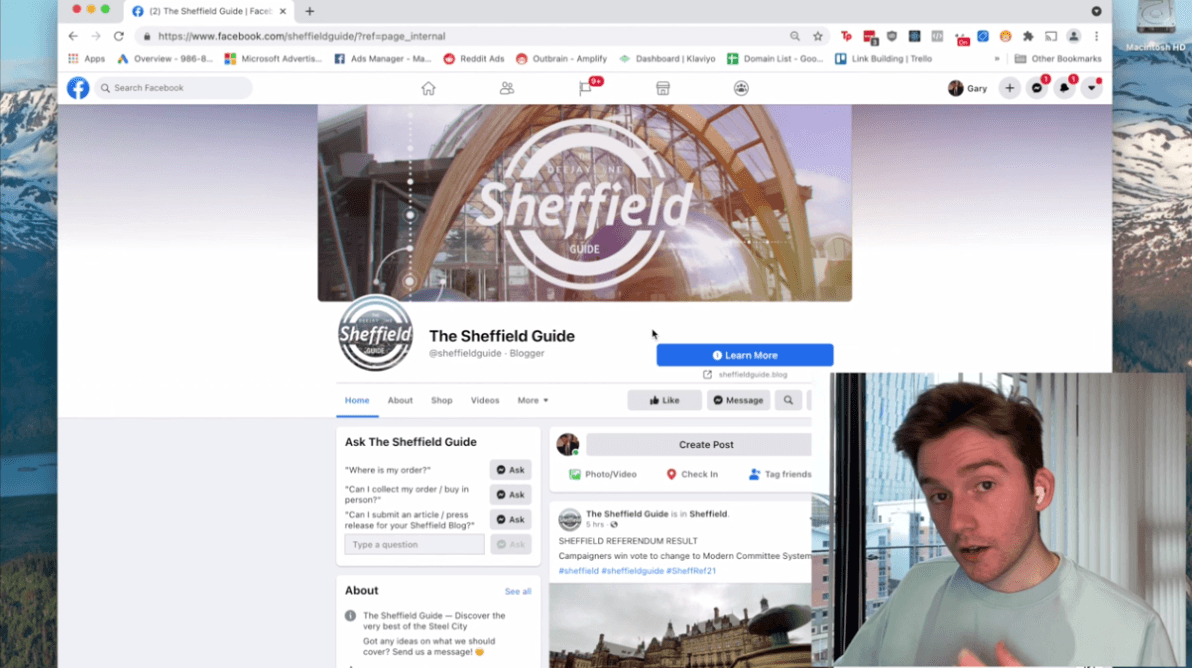 Let's take a look at the Facebook page.
So straight away I can see there's a strong authentic and local tilt to the brand. It's all about Sheffield, which is good. There's a lot of places, I'm thinking Yorkshire Soap company, that do this really well.
People, especially nowadays, definitely want to spend their money more locally and doing this and basing the entire brand around the local identity can help to make it feel more authentic.
Here's the first post with your designs in, so you're posting content regularly and it's good. It's product tagged which is the catalog integration coming through, a big thumbs up.
I really like the designs again, reinforcing that local aspect. But they're not tacky in the same way that like a museum gift shop might be, or a visitor information centre.
Let's take a look at the Facebook ads.
The Facebook Ads
So you've got some ads that you launched in April that aren't active anymore. Interesting.
And an ad that you launched in February, 2021, which is still active.
And then you have one from November, 2020, which is still active as well.
Everything with paid social and especially Facebook and Instagram ads is all about testing, testing, testing.
You want to be using different creative, different variations and competing them against one another, trying to find which one's going to work best for you to generate more sales.
The fact that you've left an ad running since November kind of tells me that there's not too much testing going on.
The Copy
The copy is really good. We've got the bullet point, tick boxes, this kind of thing's great.
It's good for padding out the ad copy. And it's good for reinforcing the USP's. I really like it. I love what you've done.
Again. You are getting across that local aspect. I'm not going to try and read this because I'm from Manchester and I'll butcher it.
This February ad uses a t-shirt on nice white background.
You've got one time that someone's going to see the ad, especially if it's top of funnel.
They're going to see it and scroll past, and you really need to be grabbing people.
So you've got to do everything you can to make this engaging. And a model shot is just so much more engaging than a t-shirt and a white background.
I know it's easy to say, but it makes a massive difference. This February ad, I know it has some variance, but they're all the same design. You're not really giving the Facebook algorithm enough to work with just by running the same design with two different colours.
This video is good, but there's too much text.
There used to be a thing with the facebook algorithm where it would actually penalise creatives that use too much text like videos and is that's not there anymore.
That being said, I feel like you're wasting some real estate here in this square by putting your logo in by putting this various sizes. This kind of stuff should really be in the ad copy.
If you don't want to put it at the top, put it further down, it doesn't matter. People still do read it. You're just wasting too much space, which could be used instead to get your brand across
These model shots are good. Same thing with this video there's a lot of texts like here.
We've got three seconds. I've already scrolled past. You literally get three seconds to grab someone's attention. So you want to fill that first three seconds with as much as you can to get your brand across.
This hoodie here, I feel like she should be first. The video is good. Just skip the first six seconds.
No one cares about your logo. Okay. No one cares. They can see it in the profile picture. So don't waste the first six seconds, which is so precious. Don't waste those on showing people your logo. If you're going to do any videos, do get more engagement in general, you really do need to get some engaging model shots.
Why not? I mean, this brand is POD, right? Why not print some T-Shirts get your mates down, go out to the park, go to some local Sheffield landmarks. Take some pictures have a laugh, go for a pint afterwards. And at the end of that day, you will have had fun and you would've got some really, really good and engaging content for your ads.
It is a worthwhile investment. Okay. Let's take a look at your landing page.
The Landing Page
Okay. So the ad that's still running, takes you to the product page. Now taking someone onto a product page, isn't bad. Especially with a retargeting ad, and it's this far down the funnel.
But for a top of the funnel ad, when people are just learning about your brand, it's really much better to take them to a category page where they've got a lot to scroll past.
They've got more content to see. I'll definitely use the product page as a landing page but, further down the funnel.
For top of funnel ads, I always go to the category page.
The Category Page
Let's take a look at your category page then.
Your navigation's a tiny bit confused. And especially if I'm here to shop.
Okay. So according to this mardy bum - artic monkeys, yeah, it's gotta be - it's the number one best seller. So why is that, not in your ad?
I didn't see that once in your ad, that's a wasted opportunity for sure. But this, this category page is good. It's really good. And your designs are great. You've got so much good content here. All these model shots. Why aren't we using these in your ads?
You've also put a lot of time into getting these shots together. Why aren't you using them?
Recap and Conclusion
Let's do a quick recap and talk about what we've learned about the Sheffield Guide.
First of all, you, you really need to test more, all this great content, but you're not using in ads. And the ads that you have got running aren't really doing it for me.
It's a bit of a shame if this is all people see, and all they've got to do is click through to your website and you've got all these designs.
You've got all the ingredients there to make a really good and engaging ad. You've just not mixed it together into the right smoothie yet.
And did you use your videos? You're making videos, but you're not paying to show them to people. That to me is a massive shame because you did a really good job with the concept.
And then let's look at this another way. I liked your designs and I liked the the direction going in with the POD side of your business.
I feel like you had a successful blog about Sheffield and you launched this POD as an alternate revenue stream, which is good.
But I do feel like if you were to allow the POD, just to stand on its own two feet, as an independent brand you could get a broader appeal with it.
I'd look at building on the hard work, that's obviously already done, and creating a new brand for these t-shirts, which draws anything that makes Sheffield such a unique city, and draws on that Yorkshire identity and unlocks it, and it gives it a much broader appeal and a wider audience.
**The designs are great, but there's a lot of in-jokes here**. Now in-jokes do sell t-shirts, especially with POD. I feel like some of these in jokes are a little bit too specific.
Like if you've never been to Sheffield, or not lived in Sheffield, a lot of these might just go over your head. Even the made in Sheffield t-shirt, which is really good
If you're pushing these on paid social, you've got a very narrow audience there already.
Building a brand like that that might seem like a daunting task, but you really have already done all the hard work and you can use the blog, that you've got to promote it.
It's literally now, just taking that and exporting it for a wider audience and it will pay off.
I guarantee you, it will pay off. All right. Thank you so much to the Sheffield Guide. I've enjoyed this and I'll see you again in the next video.
About the author
Gary Lewis Cheetham is an automotive marketing specialist, born and raised in Oldham, Greater Manchester. He spent his teenage years working at the family dealership after school, learning the ropes of the car trade from the inside out.
After moving on to working in marketing, Gary Lewis founded GL Digital in 2020 when he noticed a need for direct-to-consumer marketing platforms within the auto industry. He now strives every day to help independent dealers in the UK and US realise their potential. Gary also loves Formula 1 and motorsport.
More Articles
We will be the first to say it: SEO for car dealerships is officially over in 2022. Car dealers fail at SEO time and time again, because…
5 minute read - 07/02/2022
This article will cover how dealerships can do conversion rate optimisation on their website and sales funnels, including for lead…
6 minute read - 27/01/2022
Email marketing is one of the most effective digital marketing strategies for car dealerships to build relationships with customers. It…
5 minute read - 27/01/2022
See More