26/01/2022 - 5 minute read
The ultimate guide to Content Marketing for D2C Ecommerce Brands in 2022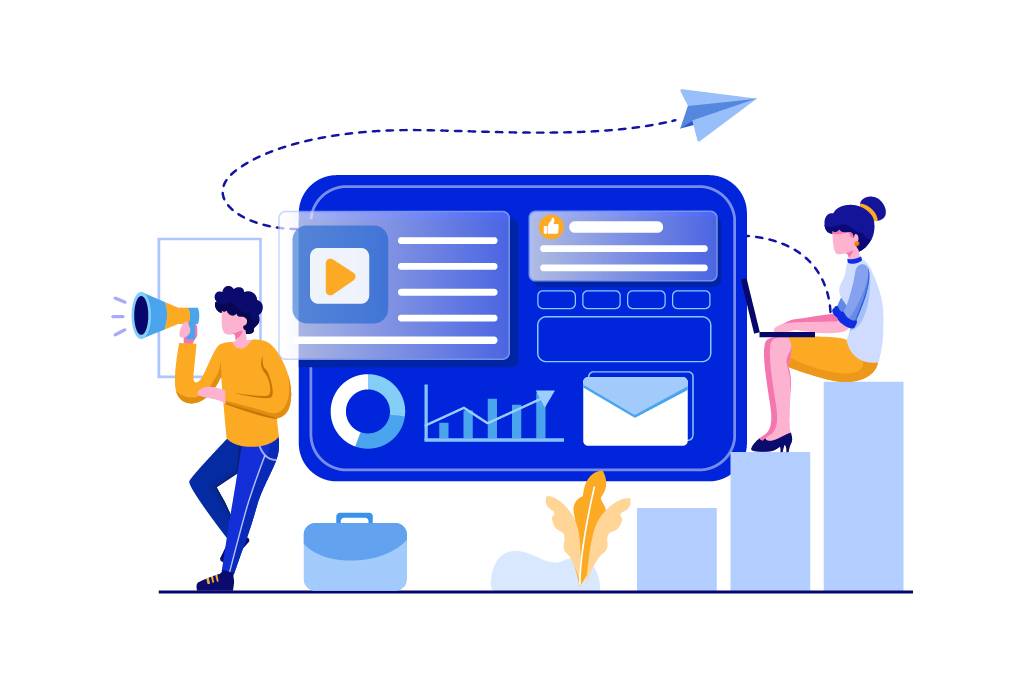 It's 2022, and the most successful direct-to-consumer brands have figured out how to create engaging video content that puts themselves front and center.
They've mastered the art of writing blog posts that add value to their audience instead of just adding more junk content to the internet, and they've built communities around their products that provide them with endless content ideas.
If you're looking to join the ranks of these successful brands, keep reading! Coming up we discuss the strategies we use at GL Digital to nail content marketing for direct-to-consumer eCommerce businesses.
2022: The year when we should banish generic junk content forever
Generic junk content is the name we give to pointless blog posts that don't add any value to your audience.
We've all seen these articles and posts. It's the skimmable fluff that SEO agencies love to churn out on industrial scale.
In fact, it's actually harmful because it clogs up the internet with more and more content that nobody wants or needs. If you want to be successful in content marketing, you need to focus on creating content that is useful and valuable to your audience.
Grinding out blogs feels great because it looks like you're actually doing something. But if you find yourself writing a listicle, it's time to rethink your strategy.
How to avoid writing Generic Junk Content
At GL Digital we have a simple sniff test for content for your brand.
Ask yourself this: Is this post something that any brand could put out? Or is it something that only my brand could put out?
It's an easy way to tell if your content is unique and adds value.
Examples of Generic Junk Content
Here's an example of a bad post. Say your brand is a business that sells home dehumidifiers.
"7 reasons why you need a dehumidifier"
This is an example of generic junk content. Any brand could write this and put it on their blog. It adds no value to the audience.
How to consistently find starting points for great content
Instead, focus on what makes your brand unique. Why do you sell air purifiers? What makes them different from other brands?
Share your unique selling proposition with your audience in an engaging way, and they'll be more likely to identify with your content.
Let's turn this awful post around.
Why we only use carbon air filters in our dehumidifiers
That's it. You've just explored an interesting part of your product that makes it unique, and added value to the audience by explaining the process.
Make content that only you can make. That's the foundation of a great content strategy.
The GL Digital checklist for killer, SEO-friendly blog posts
If you're going to publish a blog post, make sure you follow this simple checklist to get the most out of your content investment.
Embed a video. If you don't have time to record a full video you can use text-to-speech software to make a slideshow video. Longer is better. Aim for more than 2000 words with frequent headings. Have a table of contents. This helps Google to generate the dynamic links and other search features that will bring free traffic to your post Embed an author bio. Google now prioritises posts that are written by recognised industry experts, so make sure you embed an author bio in every post so you can build up authority Make sure it passes the sniff test mentioned above.
The unfair advantage for direct to consumer ecommerce brands: Put your founder on video
One killer technique that the most successful direct to consumer brands use is putting their founder on video. This gives customers a personal connection to the brand and makes them feel like they're getting to know the people behind it.
In 2022, people don't want to buy from brands. They want to buy from people.
Getting in front of the camera will immediately set you apart from your competitors. That's why we encourage all of the brands we work with to start filming everything.
Curing your camera shyness for fun and profit
Most people don't like to get on camera. It's awkward, we get it. But there are a few ways to make it a little less painful.
Find someone to help you out. Having another person there with you can make the process a lot less nerve-wracking.

Get comfortable with the content before you film. Make sure you know what you're going to say, and practice in front of a mirror so you feel confident when the time comes to film.

Film for a shorter amount of time. If you're feeling really uncomfortable, start off by filming for shorter periods of time until you get more comfortable.

Be yourself. The most important thing is to be authentic. Imagine your customers are sitting there right in the room with you.
Combine this with the content sniff test we discussed earlier and you have a recipe for great content.
The video first strategy: Video Everywhere
At GL Digital we employ a video everywhere strategy.
The content doesn't have to be polished and produced to be engaging. In fact, often the most engaging content is raw and unscripted. Let your personality shine through, and your audience will connect with you on a deeper level.
If you're going to invest in one piece of equipment, make it a ring light. Ring lights are great for creating a soft, diffused light that's perfect for filming. They're also really affordable, so they're a great option for content creators on a budget.
Other than that, just film on your smartphone. You don't need an expensive camera. And make sure you have a tripod to keep your shots steady.
The Community Strategy that adds a kick to your Content
At GL Digital we believe that helping brands build relationships with their audience is the biggest contributor to success.
That's why we invest so much effort not just in attracting customers, but building communities. A strong community can provide you with endless content ideas, and they're also a great source of feedback. By engaging with your audience and fostering a community around your product, you'll be able to create content that resonates with them on a deeper level.
Suddenly, your content isn't marketing any more. It's a conversation.
How to start building a community around your product
The objective is to reframe the customer relationship from a consumer standpoint to a community one.
Start with your existing customers. Engage with them regularly through email

Start a branded hashtag and use it in your marketing

Invite customers to a customers-only Facebook group

Reward them for their loyalty.
Engage with your brand's community to create great content
Once you have a loyal community, you can reward them with experiences and discounts.
For example, we once worked with a brand and invited one of their customers on a ride with a salesperson for their birthday.
To this date, it remains the brand's most popular video.
Making Influencer Content a part of your marketing
It's not enough to put out video content as a brand. You need to invite relevant influencers from your niche to help.
When you have content from people who are not the brand owner, it is more interesting to customers. This is because they can see different points of view and learn things from people who are experts in the field.
When you have content from influencers, it makes your brand look more credible and helps to attract new customers.
How to use influencers as part of your content strategy
The best way to use influencers is to invite them on see behind-the-scenes experiences. This could be anything from giving them a tour of your office, to sending them to the factory to see how the product is made.
By giving them an exclusive look at what goes on behind the scenes, you're establishing trust and building relationships that will last long after the content has been published.
Then you can cross-post the video to the company socials and blog.
Conclusion
When it comes to content marketing, blog posts are a must-have. But all too often, blog posts are little more than thinly veiled attempts at marketing.
If you remember anything when thinking about content marketing this year, make it this
-Start filming content for your ecommerce brand by putting yourself in front and center
-Write blog posts that add value to your audience, rather than just adding more content to the internet
-Engage with your brand's community to create content that resonates with them on a deeper level
About the author
Gary Lewis Cheetham is an automotive marketing specialist, born and raised in Oldham, Greater Manchester. He spent his teenage years working at the family dealership after school, learning the ropes of the car trade from the inside out.
After moving on to working in marketing, Gary Lewis founded GL Digital in 2020 when he noticed a need for direct-to-consumer marketing platforms within the auto industry. He now strives every day to help independent dealers in the UK and US realise their potential. Gary also loves Formula 1 and motorsport.
More Articles
We will be the first to say it: SEO for car dealerships is officially over in 2022. Car dealers fail at SEO time and time again, because…
5 minute read - 07/02/2022
This article will cover how dealerships can do conversion rate optimisation on their website and sales funnels, including for lead…
6 minute read - 27/01/2022
Email marketing is one of the most effective digital marketing strategies for car dealerships to build relationships with customers. It…
5 minute read - 27/01/2022
See More