Facebook Boosted Posts For Car Dealers 101: A Beginners Guide with Examples
Published 13/01/2023 - Updated 28/07/2023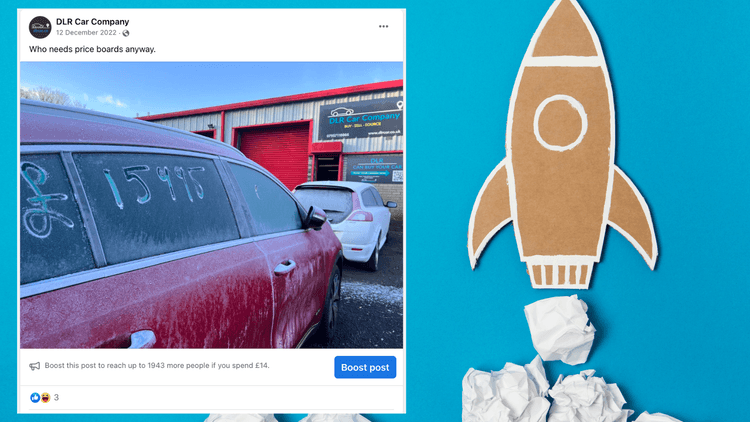 This article provides an easy-to-follow, step-by-step guide, with examples, on how car dealers can create and manage effective Facebook Boosted Posts.
It covers the basics of boosting posts, how to set a budget, why
boosting works and how to measure success when using boosted posts.
What are Facebook Boosted Posts and how are they different from regular posts?
Facebook Boosted Posts are an easy way of promoting posts on your
Facebook page, by providing a simple payment option which increases
visibility.
You can set a budget and target audience, and pay Facebook to show your
post on more people's news feeds directly from the app.
Additionally, Facebook provides stats regarding engagement and
conversions so advertisers can measure their success rate.
Why would a car dealer use Facebook Boosted Posts at all?
You may have used the boosting option before and found it behaves
similarly to a slot machine.
If you haven't been getting results from your boosted posts in the past,
and wonder why, this article is for you.
Most car dealers have chucked a few quid at a post on their Facebook
app, and found results can vary from nothing to a few extra comments or
likes on a post.
You may have even written off the idea of using Facebook Boosted Posts
entirely.
We don't generally recommend dealers commit a large part of their
advertising budget to boosted posts, however, with a little know-how,
there is no harm in boosting to get a little extra reach on your
content.
Can you believe the figures "spend £x to boost this post and get y views"… that Facebook tells you?
No, you shouldn't believe the numbers that Facebook give you underneath
a boosted post. They are total estimates and only function as an
advertising campaign for Facebook (to tempt you to spend more money on
boosting)
Whenever you boost a post, as with all advertising, forget about numbers
and results – and only spend what you can afford to lose. Results will
come later as a pleasant surprise.
Otherwise, you're better off spending your money on the fruit machine in
the pub (just our two pence worth)
What is the single most important thing to consider when boosting posts as a car dealer?
The single most important thing to consider when you're boosting posts
is to include a clear call to action.
If you don't read any more of this article, remember this, otherwise,
you may waste your money.
For example, don't boost a post saying "We are the largest used car
dealer in xyz town…". It might sound good, but there is no punchline
encouraging your customers to take an action.
Boosting a post saying "Come down on Saturday for free hotdogs and a
tour of our latest stock" is much more compelling and gets people out of
their seats.
Before we continue, who has written the article "Facebook Boosted Posts 101: A beginners guide for car dealers"?
I am Gary Lewis Cheetham, a highly experienced automotive marketing
specialist with over a decade of experience using online ads.
I am passionate about the car industry and have extensive knowledge in
utilising Facebook to drive growth for car dealerships.
As the founder of GL Digital Automotive Marketing, I started my company
in 2020 to assist other dealerships in achieving their growth goals
using digital marketing strategies.
My goal is to empower independent car dealerships in the UK and US to
expand their inventory and boost their sales by harnessing the power of
Facebook and its advertising features, especially Boosted Posts.
How are Facebook boosted posts different from regular posts?
Facebook Boosted Posts are different from regular posts for car dealers
in several ways:
Reach: Boosted Posts have a wider reach than regular posts as they can
be promoted to a specific audience, whereas regular posts are only
seen by people who already follow the dealership's page.
Targeting: Boosted Posts allow car dealers to target a specific
audience based on demographics, interests, behaviours, and location,
whereas regular posts have no targeting options.
Budget: Boosted Posts require a budget, whereas regular posts are free
to publish
How are Facebook boosted posts different from Facebook ads?
Facebook Boosted Posts and Facebook Ads are similar in that they both
allow businesses to promote their content to a targeted audience on the
platform, but there are some key differences between the two.
Boosted Posts are much simpler to set up, and can be a quick and simple
way for a car dealership to promote an existing post from their Facebook
page.
Facebook Ads, however, can be used to create more detailed and specific
ads that target different audience segments, such as new car buyers or
people in the market for a specific make and model of car.
Boosted Posts can be used to increase engagement and reach on the
dealership's Facebook page, while Facebook Ads should be used to drive
website traffic and generate leads.
What sort of content should a car dealer promote using Facebook Boosted Posts?
We recommend using Facebook Boosted Posts to promote the following kinds
of content:
Dealership promotions and sales
"Thank you" posts for loyal customers
Why only these sorts of posts? Facebook Boosted Posts are a blunt tool
and can reach a wide audience, similar to a billboard beside the road.
For these reasons, only posts that are relevant to a large number of
people in your local community should be boosted.
Need more ideas? Check our Ultimate guide to Content Marketing for Car dealerships.
For example, boosting a post featuring a specific car is not
recommended, as most people seeing the post will not be interested in
that specific car, and lots of your ad spend will be wasted.
What should not be promoted using Facebook Boosted Posts for a car dealership?
There are certain types of posts that a car dealership should avoid
promoting using Facebook Boosted Posts, as they are not likely to result
in the desired outcome or be cost-effective. Here are a few examples:
Posts that feature a specific car that is not likely to appeal to a
broad audience. For example, if the dealership only has one of a
certain type of car in stock, it would not be cost-effective to
boost a post about that car because many people who see the post
will not be interested in it.
Posts that contain only text with no images or videos. Posts with
visual elements are more likely to capture attention and result in
higher engagement, so boosting a text-only post is less likely to be
effective.
Posts that are too promotional and not informative. Posts that are
very sales-y, overhyped and not informative will not be well
received by the audience and are less likely to lead to conversions.
Posts that are not time-sensitive. Boosting a post about an event or
sale that has already occurred or expired is not likely to be
effective, as people will not have an incentive to engage with the
post.
Posts that do not have a clear call-to-action. Posts that do not
have a clear message of what the viewer should do next will not be
effective in driving conversions.
Posts that have fewer likes and comments on the page. If the post is
not well received organically, it's unlikely that it will perform
well when boosted.
Posts with poor quality images or videos. Low-resolution images or
videos will not look good when they are boosted and may not drive
engagement.
How can I get started using Facebook boosted posts for my dealership? (with examples)
Here is a step by step guide on how you can start using Facebook boosted
posts in your dealership today.
Step 1: Create or choose a post that will result in high engagement
This is an example from one of our clients of a post that will perform
well when boosted. It follows all the recommendations we make above,
including:
Uses a high-quality video as a part of the post
It promotes an event, so it is time-sensitive
It includes lots of text in the post
It has wide appeal to people in the local area, and doesn't just
promote a single unit in stock
Here is another example from another one of our clients of a post that
meets our criteria, including:
Likely to be relevant to a large audience (not just promoting a single
car)
Time-sensitive, this one refers to the weather in a current cold snap
Includes a high quality image and not just text
However, this post is not as strong as it doesn't include a clear call
to action.
Step 2: Click on the boost post button and set up the ad
Here is the boost post screen you will see on a desktop after clicking
the boost post button (as of January 2023)
We will go through each option one by one to help you as you set the
post up.
Choose a goal
You have multiple options when choosing a goal, however, for most
purposes selecting "automatic" is suitable. This is what we will leave
it as today.
Choose a button label
The first option to consider is button label. For this post, it is an
event so "Get Directions" is most appropriate. Choose one that suits the
type of post you are promoting.
Special ad category
This is for posts that include categories Facebook deems as special,
such as employment or finance. If your post promotes a finance offer, or
includes any of these categories make sure you select the correct
special ad category, otherwise you may face a ban.
Choose an Audience
Identifying the target audience for the post and setting up the
targeting options accordingly is important, but we tend not to
overcomplicate this.
Just choosing "People in your local area" is enough for 99% of dealers.
The Facebook algorithm is smart and can usually find the right people to
target without too much interference from us.
For this dealer, we have an advantage audience already set up so we will
use that.
Budget: Set a budget for the boost and determine how long the boost will run.
The budget is entirely up to you. As we said before, only spend what you
can afford to lose. Any results will be a pleasant surprise.
If you are spending more than £50 on a boosted post, we recommend you
start running Facebook ads instead, as the options for targeting are
much more detailed.
Placement: deciding on where to show the post (Facebook feed, story, marketplace, etc)
Just choose everything.
Measuring: Setting up tracking pixels and conversion events
Don't worry too much about this. If there is an option there already
just click it, otherwise ignore it.
What are the best practices for creating effective Boosted Posts, including tips on image and video selection, text, and call-to-action?
Best Practice 1: Select High-Quality Images or Videos
When selecting images or videos for your boosted post, be sure to use
high-quality visuals that are well composed and engaging. This is
especially important for dealerships since a good image can be the
difference between someone taking the time to read your post or
scrolling right past it.
Best Practice 2: Include a Clear Call-to-Action
When crafting your Boosted Post, it's important to include a clear
call-to-action. This should be included in both the text and visuals of
your post so that viewers know exactly what action you are trying to
encourage them to take.
Best Practice 3: Choose an Appropriate Budget and Schedule for a Boosted Post
Only run the post for a short period of time, 7 days maximum, and don't
spend more than £50 on any single boosted post.
Spending more than £50 on any one boosted post may not be the most
effective use of a dealer's budget. First, this type of ad is intended
to reach a large audience and promote multiple vehicles or services at
once, rather than just promoting a single car. With this in mind, it's
often more cost-effective to spend smaller amounts on more posts, than
more on a single post.
What are some reasons why my dealerships boosted posts are not working?
If you are measuring your results on sales enquiries, then it is not
surprising that you feel your boosted posts are not working. You will
never be able to boost a post that will result directly in sales of cars
in the showroom.
It is far better to think about boosted posts as supporting your
dealership's brand identity and local presence, and promoting events.
If you can't see the value in this, then spending money on boosted posts
is not for you, and you should choose another advertising option for
your dealership (there are many)
Conclusion of the article "Facebook Boosted Posts 101: A beginners guide for car dealers with examples"
In summary, this article provides an overview of how car dealers can use
Facebook Boosted Posts to promote their inventory and services on the
platform.
It explains that Boosted Posts are a simple and quick way for car
dealerships to increase visibility of their inventory and events, and
that they differ from Facebook Ads by having a more "organic" feel,
appearing in the same format as regular posts in the news feed, with
fewer targeting options and ad formats available.
The article also provides tips on creating effective boosted posts,
including best practices for image and video selection, text, and
call-to-action. It also covers which audiences to target.
The article concludes by stating that by following best practices and
regularly monitoring and analyzing the performance of Boosted Posts, car
dealerships can effectively promote their inventory and services on
Facebook and reach their target audience.
Expert advice
You're reading the GL Digital blog, where auto marketing experts share proven tactics to grow your dealership.
Need Inventory? Subscribe and grow.
Inflation. Supply issues. Every used car dealer feels the squeeze.
Build a powerful local brand and watch used cars roll in. Get 5 free marketing tips to your inbox.
About the author