Ultimate Guide to Creating and Using a Facebook Page for Car Dealers in 2023
Published 20/01/2023 - Updated 02/08/2023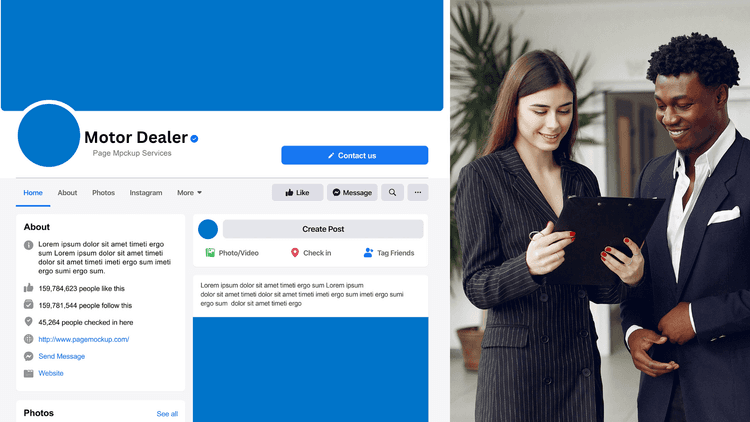 This article discusses how to create and optimise your car dealership's
Facebook page, create effective Facebook posts, engage with customers
through comments and messages, and more. By following the tips outlined
in this article, you will be able to get the most out of your Facebook
page for your car dealership!
What is a Facebook Page for Your Car Dealership?
A Facebook page for a car dealership is a specific type of Facebook
business page that allows the dealership to promote its inventory,
services, and special offers to a broad audience. By regularly posting
updates, photos, and videos, creating events, and sharing information
about promotions and sales, the dealerships that we work with drive
sales and build strong relationships with their local customers.
One of the key features of a Facebook page for a car dealership is the
ability to create and run Facebook ads. These ads can be targeted to
specific audiences based on demographics, interests, and behaviours,
allowing car dealers to reach potential customers who are most likely to
be interested in purchasing a vehicle.
Another useful feature for car dealerships is the ability to embed a
"Contact Us" button on the page, which allows interested customers to
easily get in touch with the dealership via phone or email.
Before we continue, who has written the article "The Ultimate Guide to Creating and Using a Facebook Page for Car Dealers"?
I am Gary Lewis Cheetham, an automotive marketing specialist with over
10 years of experience in the industry.
Born and raised in Oldham, Greater Manchester, UK, I am the founder of
GL Digital Automotive Marketing, a company I started in 2020 to help
independent dealers in the UK and US realize their full potential
through effective digital marketing strategies.
Having spent my teenage years working at my family's dealership after
school, I have a strong foundation in the car trade and a passion for
the industry.
My expertise in marketing and my focus on using Facebook pages for car
dealership marketing has helped me to develop effective strategies for
reaching and engaging potential customers, driving sales, and building a
strong online presence for car dealerships.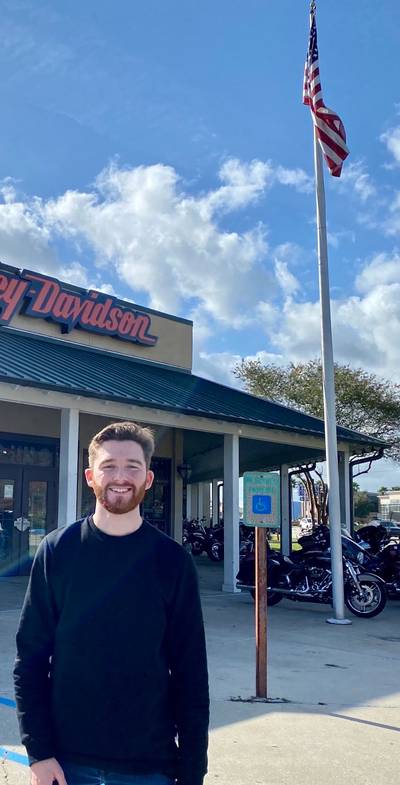 I Can Run The Marketing At Your Dealership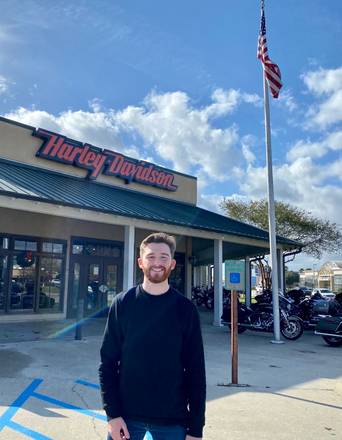 I Can Run The Facebook Ads At Your Dealership
Hi, I'm Gary. I've been working in auto businesses since I was a teenager at my dad's dealership.
My clients get these benefits:
Completely done-for-you dealership marketing - across Facebook, Google and TikTok.
Pre-qualified sales leads - Good credit local customers, attached to a vehicle so easy to close.
Fixed monthly price, no contract. Cancel anytime (but you won't want to)
Contact Me
How to Create and Optimise an Effective Facebook Page for your Car Dealership
We take the following steps to set up a Facebook business page for car
dealerships:
Set up a Facebook Business Page
Optimise the profile and cover photo
Create and share valuable content
Monitor and respond to comments, messages, and reviews
We will use one of our client's Facebook pages to illustrate How to
Create an Effective Facebook Page for your Car Dealership in the
following example.
Why create Facebook Business Page for a Car Dealership
Setting up a Facebook page for your dealership is free, and it allows
you to build a presence for your dealership alongside your AutoTrader
and eBay profiles. You can also eventually take advantage of Facebook
advertising.
Importantly, Facebook pages help to build NAP (name, address, phone)
citations, which helps to improve the dealership's local SEO. This means
that when someone searches for car dealerships in the area, your
dealership will be more likely to appear at the top of the search
results.
How Set up a Facebook Business Page for a car dealership
Before you start, you need to have a personal Facebook profile and be
logged in. Don't worry, your customers won't be able to see your
personal profile once you create a page, that will all be hidden.
To create a Car Dealership Page when logged in to Facebook:
On the left-hand side of your screen, From the Pages section, click
Create new Page.
Add your Car Dealership name and select "Car Dealership" as the
category.
Write a bio your Car Dealership's bio (see below for examples) and click
Create.
Add all information, such as contact, location and hours, and click
Next. Don't leave any info out.
Click Done.
Example bios for your car dealership Facebook Page
Here are some example bios you can use. We always ask our dealers to
emphasise their local aspects, include a phone number, and include that
they buy and sell cars in their bio.
"Welcome to [Dealership Name], your one-stop-shop for all your
motoring needs in [City Name]. We've been in the car game for
[x] years, buying and selling the best used motors at a fair
price. Give us a bell on [phone number] or pop in for a brew and a
chat about your next set of wheels."
"Get yourself a car that'll turn heads with [Dealership Name].
We've been providing [City Name] with top-notch motors for [x]
years, buying and selling at a price that won't leave you feeling
miffed. Give us a ring on [phone number] or come for a gander."
"Get a great deal on your next car at [Dealership Name]! Our
dealership in [City Name] specializes in buying and selling
top-quality vehicles at competitive prices, for cash or finance.
Give us a call at [phone number] or visit us today to find the car
of your dreams!
Tips on adding profile and cover photos for your car dealership
First and foremost, we recommend that you don't use your dealership's
logo as your profile picture. Instead, choose a high-quality photo of
the front of your dealership with the logo visible on the sign. This
will give potential customers a sense of what your dealership looks like
and make it easy for them to find you if they're in the area.
When it comes to your cover photo, you have a little more flexibility.
This is a great opportunity to showcase some of the cars you have in
stock or to highlight a special promotion you're running. Just make sure
the photo is high-quality and visually appealing. You can also consider
including a call-to-action in the cover photo such as "Visit us Today"
or "Book your Test Drive Now"
Additionally, it's a good idea to keep your profile and cover photos
consistent with your dealership's branding, so that they match your
website, business cards, and other marketing materials. This will help
to create a cohesive and professional image for your dealership.
Why verify your car dealership page on Facebook?
Verified pages come with a badge attached showing the Ltd company who
manage the page. This builds trust with customers and makes it less
likely Facebook will ban you in the future.
If you run your dealership through a limited company, you should follow
the steps below to verify your car dealership page.
Here's how to verify your Car Dealership page on Facebook Marketplace:
Log in to your Facebook account and switch to your business page by
clicking on your profile picture in the top right corner.
Click on "Settings" in the left-hand panel.
Under "New Pages Experience," click on "Page Transparency."
In the Page Transparency interface, select a verified organization to
manage the page (if you have one) or click on "Create a new verified
organization" to set up a new verified business.
Follow the steps to create a new verified organization, and upload
verification information such as your business license, proof of
address, and personal identification (such as a driver's license).
After completing the verification process, your page will usually be
verified within 72 hours.
Note: You can read more about how to verify your page on Facebook by
visiting their help centre here.
How to use Facebook Posts Effectively to Engage with Customers
We recommend the dealers we work with only post about the following:
Showing behind the scenes look at the dealership and team members
Showcase of new or featured vehicles in your inventory
Highlighting special deals or promotions
Don't post industry news, don't wash out your feed with customer
reviews or testimonials, and try not to post about car maintenance
tips. Post about your dealership, and your staff only.
Managing Customer Interactions Through Comments and Messages
You will get snarky comments and people who think they're comedians on
your Facebook posts. It's inevitable. It's important to be responsive to
comments and messages, even if they are negative.
Bad reviews or comments can actually be an opportunity to showcase your
dealership's customer service and problem-solving skills. Responding in
a professional, empathetic and timely manner can help to diffuse a
negative situation and potentially turn a dissatisfied customer into a
loyal one.
You can even have a bit of a laugh and post a jokey response to snarky
comments or reviews. Usually, other Facebook commenters will jump on the
bandwagon and help you out, as long as you're not being too out of
order.
When responding to genuine negative comments or reviews, it's important
to acknowledge the customer's concerns and apologize for any
inconvenience they may have experienced. Offer to take the conversation
offline, either by phone or email, and work to find a resolution. It's
also important to respond in a timely manner, so that customers don't
feel ignored.
An example is a dealership that we've worked with who were having
trouble managing negative comments and reviews on their Facebook page.
We helped them develop a plan for responding to negative feedback, which
included training their staff on how to handle difficult situations and
providing them with a set of pre-written responses that were appropriate
for different types of complaints.
We also helped them create a process for monitoring and responding to
comments and reviews in a timely manner, which helped to improve their
online reputation and increase customer satisfaction.
Conclusion to the article "The Ultimate Guide to Creating and Using a Facebook Page for Car Dealers in 2023"
By following the steps outlined in this article, you should have
everything you need to create an effective Facebook page that will help
your dealership stand out from the competition. Additionally, by
developing a plan for managing negative comments or reviews on Facebook
posts as well as training staff members on how to handle difficult
situations effectively, you can ensure that your online reputation
remains intact while providing excellent customer service.
With these tips in mind, there's no reason why your Facebook page
shouldn't become one of your most valuable marketing tools!
Expert advice
You're reading the GL Digital blog, where auto marketing experts share proven tactics to grow your dealership.
Need Inventory? Subscribe and grow.
Inflation. Supply issues. Every used car dealer feels the squeeze.
Build a powerful local brand and watch used cars roll in. Get 5 free marketing tips to your inbox.
About the author