Facebook Stories for Car Dealers: The Ultimate Guide for 2023
Published 03/02/2023 - Updated 02/08/2023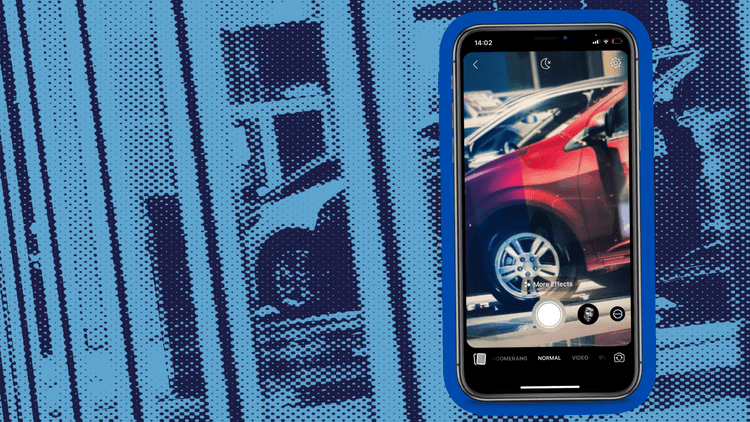 In this guide, we'll take you through all the ins and outs of Facebook
Stories and how they can help you reach more customers, generate more
leads and ultimately sell more cars. From the basics of what Facebook
Stories are, to exactly how to record and create them step-by-step, and
the best practices for creating engaging stories that resonate with your
customers, we've got it all covered.
Introduction: Why Facebook Stories are Essential for Car Dealers in 2023
What are Facebook stories?
Simply put, Facebook Stories are a way to share a series of photos or
videos that disappear after 24 hours. Think of it like a digital
storybook that you can create and share with your audience. And the best
part? No one has to know if you make a mistake – the story disappears in
a day!
We recommend Facebook Stories to car dealers as the perfect way to
showcase your cars and services in a snap, without getting bogged down
in all the marketing mumbo jumbo. Think of it like this: you know about
a particularly snazzy car you have coming in stock. You whip out your
phone, take a few snaps and post them to your Facebook Story. Your
customers can see it, and then poof! It's gone the next day. It's that
simple!
Why should a dealership even consider using Facebook stories?
Why should a dealership even consider using Facebook Stories? Well, let
me tell you, it's like having a secret weapon in your digital marketing
arsenal!
Facebook Stories is a great way to give your dealership a boost on the
Facebook algorithm. What does that mean? Your posts, videos, and
inventory on Facebook marketplace will be seen by more people, for free,
if you keep posting stories.
You may already know you should be posting on your page regularly, but
how often do you think about posting stories?
The algorithm loves to see a page that's using all of its features, and
using Facebook Stories is like a big tick in the "yes" box for the
algorithm.
Even better, using Facebook Stories can give you a competitive edge.
Your dealership's competitors locally are unlikely to be using stories
(unless they are very social media savvy), so get on it before they do.
This means more followers, and ultimately, more customers.
When were Facebook stories launched?
Facebook Stories was launched on 28th March, 2017.
At this time, Facebook were worried about competition from other
platforms such as Snapchat, and they had already launched their
Instagram Stories feature to great success, so they brought this feature
to the Facebook platform also.
What are the alternatives to Facebook stories?
Some alternatives to Facebook stories include:
Instagram stories
Snapchat stories
These platforms also allow you to share short-form, disappearing
videos or pictures of your dealership or inventory, that disappear
within 24 hours.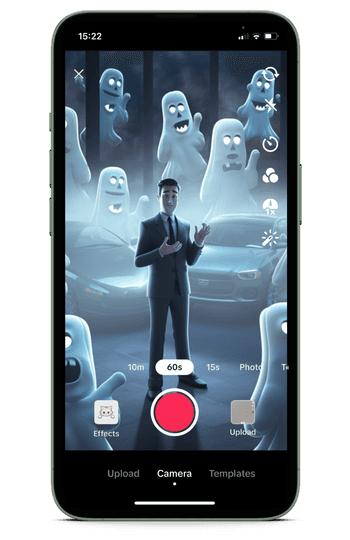 Making Car Dealer Videos but No-Body's Buying?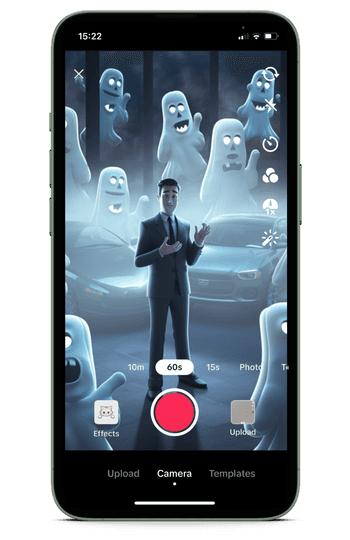 Making Car Dealer Videos but No-Body's Buying?
Stop getting ghosted by your followers, create videos that can actually drive sales!
Do's and Dont's for good video
Content Ideas that drive sales
Examples of strong videos
What are the different Facebook story features car dealers can use?
Let's go through the 7 different features you can use in your Facebook
Stories.
Picture – Simply put, it's a photo that you take and share on
your story. Think of it like a quick snap of what's going on, or a
picture worth a thousand words.
Video – A video story is just like a picture story, but with
movement and sound! Show off a new car, or take folks on a tour of
your dealership.
Text – Want to add some extra info to your story, but don't want
to use your voice? Use text! You can add a witty caption, or share
some important details about a new vehicle.
Music – Add some extra pep to your story by including a tune!
You can choose from Facebook's library, or upload your own.
Green Screen – Want to make a video, but don't want to show the
background? No worries, just use a green screen! It's like magic,
the background disappears and you can add whatever you like.
Boomerang – A boomerang is a fun little looping video. It's
perfect for showing off a car revving its engine, a car door opening
and closing again, a car driving onto the forecourt…
Selfie – If you're feeling bold, why not add a selfie to your
story? Let your customers get to know the face behind the
dealership, and show off your personality.
Who wrote the article, "Facebook Stories for Car Dealers: The Complete Guide for 2023"?
My name is Gary Lewis Cheetham, an automotive marketing specialist with
over 10 years of experience in the car industry. I am the founder of GL
Digital Automotive Marketing, and now help independent car dealers in
the UK and US with online marketing strategies.
My goal is to help car dealers like you rev up your sales and reach new
customers. I've got a strong connection to the car trade, having worked
in my dad's dealership as a lad and I've got a passion for the industry
that's only grown stronger over the years. I've put my knowledge to good
use, developing effective strategies for engaging potential customers
and building a strong online presence for car dealerships, including the
use of new tech like Facebook Stories.
Understanding Facebook Stories: A Primer for Car Dealers
What are the differences between Facebook Stories and other Facebook Features?
Facebook Stories are like quick snaps, which disappear after 24 hours,
while Facebook Posts are like writing a letter, Facebook Videos are like
movies, and Facebook Live is like a live broadcast.
What are the features of Facebook stories that are important for car dealers?
Facebook Stories are like the 99 flake in your dealership's digital
marketing Mr Whippy! And there are a few key features that make them
especially sweet for car dealers.
Facebook Stories appear at the top of your follower's feeds
Facebook Stories disappear after 24 hours
Facebook Stories include interactive elements
First up, there's the "24-hour rule". Facebook Stories disappear after
24 hours, making them perfect for sharing quick updates and news about
your dealership. No need to worry about them clogging up your page
forever!
Next, there's the interactive elements. You can add polls, quizzes, and
even the option for your followers to ask questions, making Facebook
Stories a great way to engage with your audience and get feedback on
your cars or dealership.
And finally, there's the reach. Facebook Stories appear at the top of
your followers' news feed, so they're more likely to see them than
regular Facebook posts. It's like having a sign over the entrance to
your dealership!
How to Create Facebook Stories for Car Dealers: Step by Step
The easiest way to start is to log in to your dealership's page on the
Facebook app and use your smartphone to post stories.
A dealership we work with lets every salesman log in on their phone, and
they can post stories when and how they please.
Make sure your dealership's Facebook page is set up, and optimised
first. Creating stories is no good if your page itself is lacking, we
have a full guide for this here.
How to post a Facebook story on your Dealership's Facebook Page
First, open the Facebook App, and go to the "menu" on the bottom right
of the screen.
Then, switch into your dealership's Facebook page by tapping the little
icon with two arrows around it.
Now, tap "Create Story".
Now click the big "Camera" button at the bottom of the screen, or select
one of the options at the top.
Point and shoot, it's time to film your story!
Best Practices for Creating Engaging Facebook Stories for Car Dealers
Now you know how to create stories, here are some best practices that
are sure to make your Facebook Stories attract the most customers:
Do it every day: Facebook Stories are most effective when you post
them every day, and followers know they can expect new content
Don't overthink it: Remember, Facebook Stories are meant to be quick
and candid, so don't stress too much about the perfect shot or script.
Just grab your phone, be yourself and show off your dealership's
personality.
Keep it short and sweet: Facebook Stories are quick, snackable
content. Keep your videos under 15 seconds and your images concise.
After all, who has time for a novel in their Facebook feed?
Put your salesmen on camera: Use your dealership's tone of voice and
show off your unique personality. This will help you build a
connection with your followers and make your Facebook Stories stand
out.
How can you showcase your cars and services in an engaging way?
Instead of just listing out specs and features, why not give a virtual
test drive? Let your customers see what it feels like to sit behind the
wheel, or take them on a tour of your service centre.
Showcase the creativity of your team by having them put together a fun
video showcasing your latest models.
You could even ask customers to share their own experiences with your
dealership, creating a "word-of-mouth" type vibe. Just have fun with it
and your followers will surely be engaged.
How do you create visually appealing stories for Facebook?
Let's get one thing straight: you don't need to have the latest fancy
camera to take great photos for your Facebook stories. All you need is
your trusty smartphone, a pinch of creativity and a dash of good
lighting!
Think about it, the photos you take on your phone are probably better
quality than what your grandparents had in their photo albums.
Car dealerships tend to be dark inside, so just make sure your photos
and videos are well-lit. If you want to step it up a notch, grab
yourself a cheap LED light on Amazon.
6 free Facebook Story Ideas for your Car Dealership
Running low on ideas for your Facebook Stories? No worries! I've got
some freebies for you.
Showcase your dealership's latest arrivals
Engine noises. Everyone loves engine noises.
Promote a special offer or discounted stock
Give a sneak peek into what goes on behind the scenes, whether it's a
day in the life of a salesperson or a walk-around of your showroom.
Show your cars being valeted and washed as they come in
Show quick repairs happening or give quick tips on what makes certain
models different or unique
Conclusion: The Future of Facebook Stories for Car Dealers in 2023 and Beyond
We've reached the end of our article covering the world of Facebook
stories for car dealers! By now, you should have a pretty good idea of
what Facebook stories are all about and how they can benefit your
dealership.
So what are the key takeaways from today? Firstly, remember that
Facebook stories are a fantastic way to reach potential customers and
build your online presence.
Secondly, don't be intimidated by the tech side of things, you don't
need a fancy camera or any marketing know-how, just your trusty
smartphone will do!
And finally, the most important thing is to have fun with it. Don't take
it all too seriously, show your personality, and let your customers get
a glimpse into the world of your dealership. Who knows, you might just
surprise yourself with the results!
So there you have it, the lowdown on Facebook stories for car dealers in
2023 and beyond. I hope this has been a help and don't hesitate to get
in touch if you have any questions.
Expert advice
You're reading the GL Digital blog, where auto marketing experts share proven tactics to grow your dealership.
Need Inventory? Subscribe and grow.
Inflation. Supply issues. Every used car dealer feels the squeeze.
Build a powerful local brand and watch used cars roll in. Get 5 free marketing tips to your inbox.
About the author