The Ultimate Guide to Facebook Page Content for Car Dealerships in 2023
Published 27/01/2023 - Updated 02/08/2023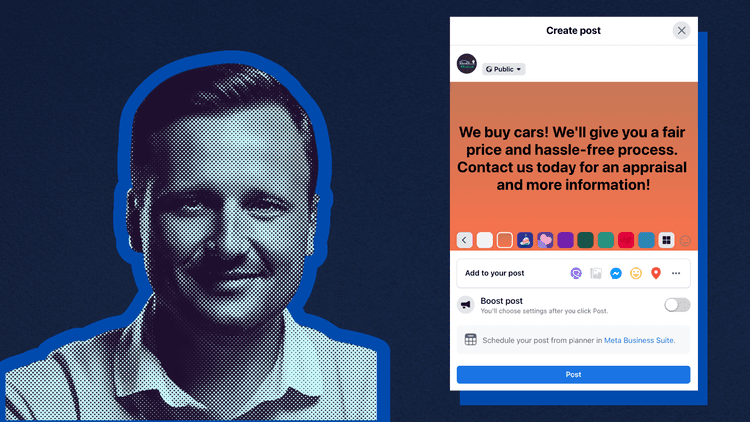 In this article, we'll cover the different kinds of posts you can create
on Facebook, tips and tricks on how to create engaging Facebook content,
the power of video and more to boost your car dealership's online
presence.
By the end of this article, you will have a better understanding of how
to create Facebook content that engages your audience and drives traffic
to your car dealership's website.
We've outlined some tips and tricks for crafting Facebook posts as well
as utilizing video features like Facebook Reels, and measuring success
with Facebook Insights. With these tools in hand, you can start creating
engaging Facebook page content for car dealerships in 2023!
Before we continue, Who has written the article "The Ultimate Guide to Facebook Page Content for Car Dealerships in 2023"?
I am Gary Lewis Cheetham, an expert in creating Facebook page content
for car dealerships. With over 10 years of experience in the automotive
marketing industry, I have a wealth of knowledge on how to effectively
reach and engage potential customers, drive sales, and build a strong
online presence for car dealerships.
As the founder of GL Digital Automotive Marketing, a company I started
in 2020, I have helped independent dealers in the UK and US to realize
their full potential through effective digital marketing strategies.
Having spent my teenage years working at my family's dealership, I have
a strong foundation in the car trade and a passion for the industry. My
focus on using Facebook pages for car dealership marketing has allowed
me to develop highly effective strategies, and I hope that this article
will prove useful for you too.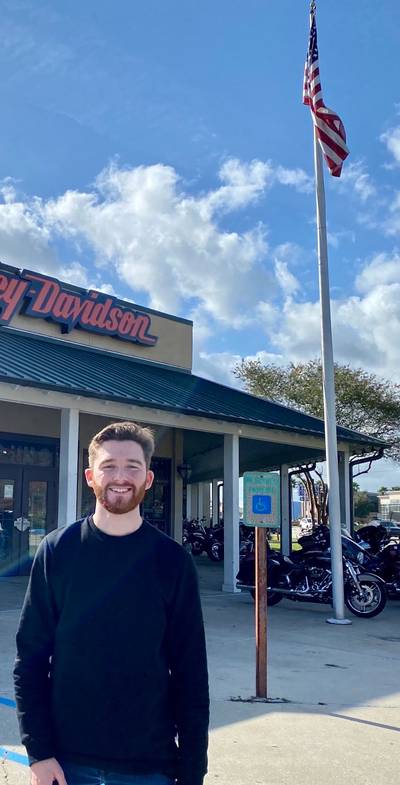 I Can Run The Marketing At Your Dealership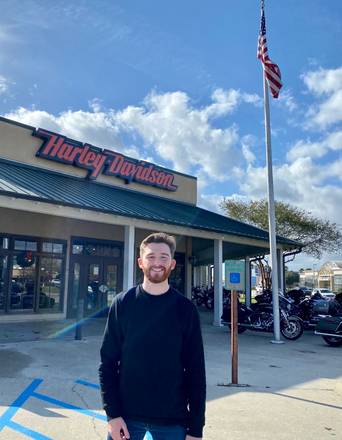 I Can Run The Facebook Ads At Your Dealership
Hi, I'm Gary. I've been working in auto businesses since I was a teenager at my dad's dealership.
My clients get these benefits:
Completely done-for-you dealership marketing - across Facebook, Google and TikTok.
Pre-qualified sales leads - Good credit local customers, attached to a vehicle so easy to close.
Fixed monthly price, no contract. Cancel anytime (but you won't want to)
Contact Me
What are the different types of Facebook posts that car dealers can take advantage of?
As a car dealership, there are five types of posts that you can make to
your Facebook page:
Text
Photo
Video
Reels
Link
What are Facebook text posts for car dealerships?
Text posts on Facebook can include pure written text by itself, or text
written on a coloured background. They can be used for news updates,
vehicle specials and promotions, customer testimonials, calls-to-action
(CTAs), and more.
You can use different formatting options like bold, italic, bullet
points and underline when formatting your Facebook text post.
Don't underestimate the power of using text posts, many of our most
viral posts in the past have been simple text.
Is there a character limit when using text posts for car dealers?
Facebook allows up to 63,206 characters in text posts, so you can really
write as much as you want.
What are Facebook photo posts for car dealerships?
Facebook photo posts are text posts with a photo added. Photos can be
used to showcase inventory, customer photos or reviews, ads for vehicle
specials and promotions, upcoming events, behind the scenes looks at the
dealership and much more.
Facebook also includes image editing tools built in that we encourage
our dealers to use. You can customize photos with text overlays, filters
and more. They are also one of Facebook's most engaging post types as
they often inspire comments from users who liked the image or found it
interesting. Posts that include an image normally receive greater
engagement than those without one.
What are Facebook video posts for car dealerships?
Facebook video posts are long form videos which are usually posted in
landscape (16:9) aspect ratio.
Any video posts your dealership makes will be included in the "videos"
tab of your page, and will also be included in Facebook video discovery
algorithm and search interface.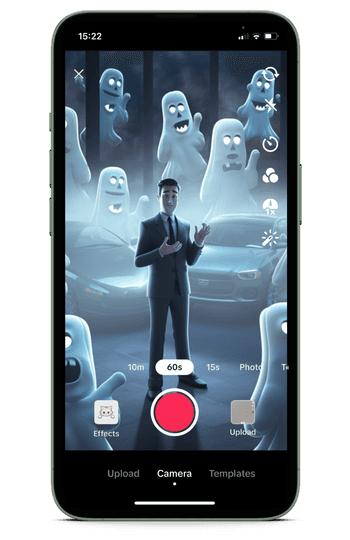 Making Car Dealer Videos but No-Body's Buying?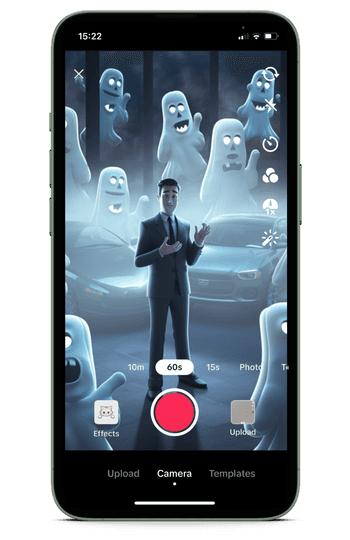 Making Car Dealer Videos but No-Body's Buying?
Stop getting ghosted by your followers, create videos that can actually drive sales!
Do's and Dont's for good video
Content Ideas that drive sales
Examples of strong videos
What are Facebook reels posts for car dealerships?
Facebook reels are 15-second videos that are included in the Facebook
reels algorithmically-driven feed. They are Facebook's answer to TikTok
and they are built right in to your page.
You can edit the videos and add background music, fun overlays, and text
right on the Facebook interface.
What are Facebook link posts for car dealerships?
Facebook link posts allow you share webpages, articles, and other
content with your Facebook followers. Links can be used to direct users
to individual cars on your website, dealership services such as repair
or maintenance, and more.
You'll notice that when you share a link on Facebook, the post
automatically pulls through any pictures and a short summary from the
web page you're linking to. This is done automatically using open graph
(OG) protocol and you can't change the image it pulls through, unless
you have admin access to the linked web page.
How to Create Engaging Facebook Page Content for your Car Dealership
Here are our top tips how to Create Engaging Facebook Page Content for
your Car Dealership
Show behind the scenes footage of your dealership and staff
Write content that will get shared
Keep things short and sweet
Show behind the scenes footage of your dealership and staff
Remember American Chopper? Or Wheeler Dealers? People love watching
videos of people buying, restoring, and selling cars. Your dealership
does this on a daily basis, so why not show it?
At a dealership I worked at, we had 100 videos of freshly valeted cars
on the ramp and we barely got any attention. It was only when we started
posting candid footage of the staff washing, fixing or selling cars that
we started getting comments.
This kind of content helps customers feel more connected to the
dealership, while presenting a human face that they can trust. It also
helps customers make a more informed purchasing decision, as they get to
see your staff and processes in action.
Write content that will get shared
Your Facebook posts will perform best when people share them, because it
gives you free reach. Every time a post gets shared, everybody who is
friends with that person will see your post.
There are three ways you can do this, make it funny, make it friendly,
or make them furious.
Making it funny means poking fun or posting a joke or meme.
Making it friendly means running an event for a charity or local good
cause that people will naturally want to share.
Making them furious means taking the mick or being controversial on
purpose. Hey, it worked for Trump!
Keep things short and sweet
Remember, the people on Facebook have the attention span of a Goldfish.
So don't waste it. According to a BuzzSumo analysis, the ideal Facebook
post length is around 50 characters (or fewer).
Do the hashtags matter?
No, they don't matter at all. Use them or don't use them, it's up to
you, but don't expect it to make a difference.
Measuring Success: Utilising Facebook Insights to Track Engagement and Improve Your Page's Performance
What are the Facebook insights? They are the built in metrics that
Facebook gives you that let you see how many people have seen your
Facebook post. They are, impressions, reach, and post engagement.
Post impressions refer to the number of times a post has been seen; post
reach refers to the number of unique people who have viewed a post; and
post engagement refers to the total number of likes, comments, shares
and other reactions generated by a post.
Why are impressions different to reach? Because one person might have
seen the same post multiple times.
How to use these metrics to make better posts
What does this all mean? You'll often be surprised at the number of
impressions your posts get, and how little the number of comments are.
When you're looking at these numbers, remember, all that matters is the
engagement. Do everything you can to get people commenting and sharing
your posts. That's what will sell you cars!
Conclusion of the article "The Ultimate Guide to Facebook Page Content for Car Dealerships in 2023"
Are you ready now to start using your dealership's Facebook page to it's
full potential?
By leveraging Facebook's event posts, behind-the-scenes footage of the
dealership and staff, writing content that gets shared, and short yet
sweet Facebook posts, your dealership will have a better chance at
engaging with its audience.
Utilising Facebook Insights allows you to track engagement metrics such
as impressions, reach, and post engagement so that you can learn what
works and what doesn't.
With these tips in mind, we hope this guide has helped you plan out how
best to use Facebook for your car dealership's needs.
Expert advice
You're reading the GL Digital blog, where auto marketing experts share proven tactics to grow your dealership.
Need Inventory? Subscribe and grow.
Inflation. Supply issues. Every used car dealer feels the squeeze.
Build a powerful local brand and watch used cars roll in. Get 5 free marketing tips to your inbox.
About the author