10 Facebook Live Ideas for Car Dealerships: Boost Your Sales with Live Video
Published 10/02/2023 - Updated 28/07/2023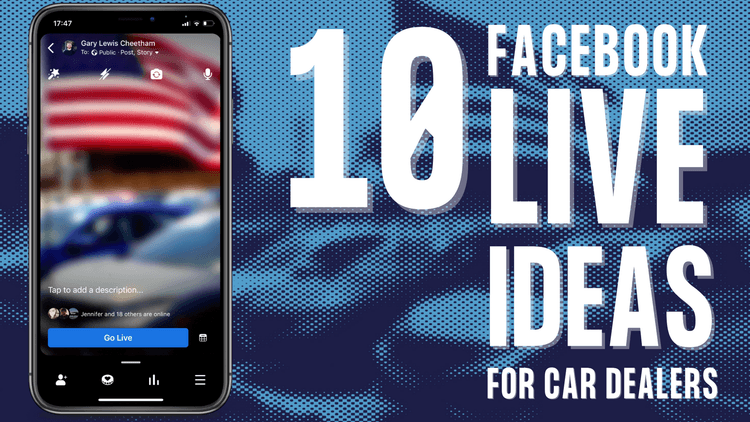 In this article, I give 10 proven Facebook Live ideas that you can take
and use for free at your car dealership.
Facebook Live is a live-streaming platform great for car dealerships
looking to engage with customers and boost sales. Whether you're new to
Facebook Live or looking to level up your game, these ideas will help
you create dynamic and engaging content that will keep your audience
coming back for more.
For a full tutorial on how to set up Facebook Live and how to create
live videos, check the full guide I wrote on Facebook Live
here.
Making the most of Facebook Live at your Dealership
Now, from hosting virtual test drives to showcasing your dealership's
newest arrivals, there are countless ways to make the most of Facebook
Live.
Today I'll show you how to get creative and connect with your audience,
building a loyal following that will drive sales and increase
engagement. So buckle up and get ready to take your Facebook Live game
to the next level!
Who wrote the article, "10 Facebook Live Ideas for Car Dealerships: Boost Your Sales with Live Video"?
Hi, I'm Gary Lewis Cheetham, an expert automotive marketer from Oldham,
Greater Manchester. I've got a unique approach to marketing and an
approach to car dealing, honed from growing up in my dad's dealership
and learning on the job.
I have a background in website building, SEO, and running sales and
finance departments, so I've got a wealth of experience in the
automotive industry.
Now, I run my own automotive marketing agency, working with car
dealerships all over the UK and US. My approach means I'm the perfect
person to help dealerships boost their sales and engagement with
Facebook Live.
Let's get straight into the Facebook live ideas!
1) Take Your Customers on a Virtual Tour of Your Showroom
Why not show off your latest models and give customers a 360-degree view
of the dealership?
We did this at my dad's dealership every time we made a big change to
the showroom or put a new sign up, for example. In this Facebook Live
video, you can show your customers around your showroom from the comfort
of their own home. Start by giving a quick introduction and explain what
they can expect to see during the tour.
Then, grab your smartphone and start walking around your showroom,
pointing out different vehicles, special features, and any current
promotions you may have. Make sure to talk about each vehicle, why it's
a great option, and how it can benefit the customer.
To put a unique spin on this video, try to make the tour as interactive
as possible. Encourage customers to ask questions as you go, and make
sure you have someone on hand to answer them in real-time. This will
help to build a sense of community around your dealership, and show your
customers that you're approachable and knowledgeable.
Get all of your staff involved by having each team member introduce
themselves and share their favourite aspect of working at the
dealership. Encourage them to join in on the tour and share their
expertise with viewers. This is a great opportunity for customers to get
to know the friendly faces behind the dealership and build a
relationship with your team.
2) Introducing the Team
Putting a face to the name of your dealership is a great way to build
trust and rapport with your customers. When I was working at my dad's
dealership, we always made sure to introduce our team members to our
customers, whether it was in person or through marketing materials. And,
now that we live in the digital age, Facebook Live is the perfect
platform to introduce your team to a wider audience.
One way to make your team introduction stand out is to have each team
member share a fun fact or personal story about themselves. This gives
customers a glimpse into the personalities behind the dealership and
makes them feel more connected to your team. Plus, it's a great
opportunity to show off your team's sense of humor and give customers a
reason to tune in to future live streams.
Finally, don't forget to involve all of your staff in the Facebook Live.
Encourage them to share their stories, answer customer questions, and
interact with viewers. Not only does this build camaraderie among your
team, but it also gives customers a chance to get to know everyone at
your dealership. And who knows, you may even discover a new star on your
team who shines during the live stream!
3) The Benefits of Buying from Your Dealership
Highlight the unique advantages of doing business with your dealership,
such as competitive pricing and exceptional customer service.
In my dad's dealership, we always made sure to stress the unique
benefits of buying from us. We offered competitive pricing and
exceptional customer service that you wouldn't find at just any
dealership. And I think it's a message that still holds true today.
When it comes to your Facebook Live, this is your chance to really sell
the benefits of doing business with your dealership. Sure, you can talk
about the competitive pricing, but what sets your dealership apart? Do
you offer free car washes for life to customers? Do you have a team of
experts in the finance department that can help customers find the right
car loan or lease option? Make sure to highlight these unique advantages
and let customers know what sets your dealership apart from the rest.
But don't just talk about the benefits, show them! Take your customers
on a tour of your showroom and let them see the amazing inventory you
have. Introduce them to some of your staff members and let them see how
friendly and knowledgeable your team is.
And make sure to involve all of your staff in the video, whether it's by
having them do a quick wave or having them give a testimonial about what
sets your dealership apart. When customers see the friendly faces behind
your dealership and the unique advantages of doing business with you,
they'll be more likely to choose you over your competitors.
4) New Model Launches on Facebook Live
Give customers a sneak peak of the latest models, complete with
specifications and features.
For "New Model Launches," Facebook Live is a great way to give your
customers a sneak peak of the latest models, complete with all the
important specifications and features. If you're a franchised dealer of
new cars, this is a particularly relevant opportunity for you to show
off your inventory and get people excited about what you have to offer.
I remember working with a Harley Davidson dealership once, and they used
a Facebook Live to launch a new line of motorcycles. They brought in a
few of the bikes, talked about the specs, and even took them for a spin
around the lot. The customers loved it! They got a real feel for what
the bikes were like and could see them in action, instead of just
reading about them on a website.
To make this work for your dealership, involve as many of your staff as
possible. Have someone present the specs and features of each car, while
another takes it for a test drive. Make it interactive and encourage
your viewers to ask questions. You can even have a competition for the
person who asks the best question, with a prize like a discount on their
next purchase or a free oil change. The goal is to make the event fun
and engaging, and to give your customers a reason to tune in and get
excited about your dealership.
5) How to Finance a Car Q and A Session
For a Facebook Live video on "How to Finance a Car," we can definitely
bring in some of my personal experience from running a finance
brokerage. I remember when I worked there, I came across certain insider
tips, such as how rogue brokers will artificially inflate interest rates
to get higher commissions. That's why it's important for customers to
come directly to a dealership for financing advice.
To make the video engaging, I would start by setting the scene,
explaining why financing a car can be overwhelming and confusing for
some customers. Then, I would share my experience and some of the tips I
learned while running my finance brokerage.
This will make the video relatable and personal, and show that I have a
deep understanding of the car financing industry.
Finally, I would wrap up the video by offering some practical advice on
how to get the best financing deal, such as what to look for when
comparing interest rates, how to negotiate with lenders, and how to
avoid hidden fees.
I would also emphasize the importance of working with a reputable
dealership, as they will have access to a wider range of financing
options and can help customers find the best deal for their individual
needs. The key is to make the video informative, but also fun and
engaging, so that customers walk away feeling more confident about
financing their next car.
6) Maintenance and Service How-Tos
Share tips on how to keep cars in top condition and prolong their
lifespan. When I work in dealerships, I have the privilege of working
with some of the best mechanics and service professionals out there.
They all have hands-on experience working with all different models of
cars, which gives them a unique understanding of how to keep vehicles in
top condition and extend their lifespan.
In this Facebook Live video, we will share some of the tips and tricks
that our service experts have learned over the years. This will be a
great opportunity for your customers to get insider knowledge on how to
maintain their cars and keep them running smoothly. Whether it's advice
on simple things like tire pressure or more complex topics like oil
changes and brake maintenance, we'll make sure to cover it all.
To add a personal touch, you could share some of my own experiences
working with car maintenance and service. You should also encourage all
of your staff to participate and share their own expertise on the topic.
This way, you can offer a well-rounded perspective and engage with your
customers in a meaningful way. By providing valuable information, you'll
build trust and establish your dealership as a knowledgeable and
reliable source for car maintenance and service tips.
7) Frequently Asked Questions
Ah, a classic opportunity for some Q&A! I love a good FAQ session, don't
you? It's a chance to show off all the clever clogs knowledge you and
your team have accumulated over the years in the car trade.
Now, when it comes to filming "Frequently Asked Questions", the key is
to be engaging and informative. You want to make sure your customers
feel heard, and that their concerns are addressed in a helpful and
friendly manner.
Keep a list of common questions that your customers ask salesmen over
the previous weeks and months, for instance, does the car come with a
service and oil change etc.
To put a unique spin on it, why not turn it into a bit of a game show?
You can have some fun with it, and get your team involved by assigning
them different questions to answer.
As for involving all of your staff, why not get each member of the team
to take turns answering a question? Not only will this give your
customers an opportunity to get to know each member of the team, but it
will also help to keep the video lively and interesting. Plus, it'll
give each member of your team a chance to shine and show off their
expertise. Just imagine, "It's the finance expert, Gary, with the answer
to 'How do I get the best deal on financing'?", I'm sure you'll get a
round of applause for that!
8) Showcase Your Top Picks
Give a tour of your showroom and highlight your personal favourite used
cars in stock. Talk about the unique features and benefits of each
vehicle, and why you think they're the best on the market.
A car dealer I worked with was big into modified Japanese cars, and had
a particularly special Subaru come in with a custom paint job. He made a
Facebook live video about this car when it came in, and it attracted a
lot of attention with customers coming in just to see that car.
You can involve your staff in this by alternating staff members every
week, and asking them to pick their favourite car in the showroom and
walking people through it.
9) Expert Tips for Buying a Used Car
Offer advice and tips for customers who are in the market for a used
car. Share your expertise on things to look for when buying a used car
like tyres, engine noise, and checking for common electrical faults like
electric windows.
You can make this unique by showing how your dealership only acquires
cars that meet your stringent criteria, and by showing customers how all
the cars on your forecourt are mechanically sound.
Involving staff in this can be done by having each member of staff look
over their own car, and show how well they look after it.
10) Take viewers along on a test drive
As long as you're in the passenger seat (not driving), and your phone
has 4G access, you can safely go on a drive in a car and live stream it
on Facebook.
Take viewers along your dealership's established test drive route live,
and talk about the different handling features of the car on the way.
You can involve staff by giving the responsibility to a different member
of staff every time, or by having the Facebook live go on a ride along
with customers.
Conclusion to the article "10 Facebook Live Ideas for Car Dealerships: Boost Your Sales and Engagement"
Now you have no excuse, try the Facebook live ideas in this article and
watch as your Facebook experience goes from zero to hero in no time at
all!
Expert advice
You're reading the GL Digital blog, where auto marketing experts share proven tactics to grow your dealership.
Struggling to make good video?
Sometimes it feels like posting on TikTok is a waste of time.
Build a powerful local brand and watch customers roll in from TikTok.
About the author