2023's Must-Read Guide to Facebook Live for Car Dealerships: Drive More Sales Today
Published 10/02/2023 - Updated 28/07/2023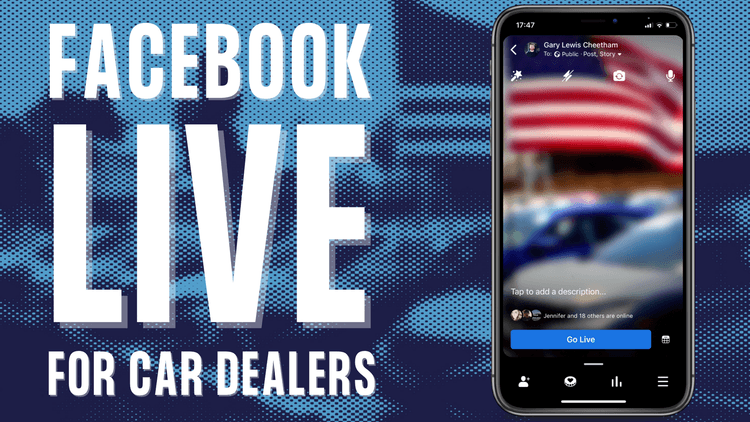 In this guide, I'll walk you through everything you need to know to get
started with Facebook Live for your car dealership, including how to set
up a Facebook Live stream and tips for making the most of this powerful
tool.
I'll also be sharing some of my favourite examples of car dealerships we
work with using Facebook Live to great effect. From walk-around tours of
vehicles to Q&A sessions with customers, these examples will give you a
taste of what's possible and inspire you to get creative with your own
Facebook Live streams.
So, whether you're a seasoned pro or a newcomer to the world of Facebook
Live, this guide is for you. Get ready to take your dealership marketing
to the next level!
Before we continue, who has written the article "2023's Must-Read Guide to Facebook Live for Car Dealerships: Drive More Sales Today"?
Hi there! I'm Gary Lewis Cheetham, the founder of GL Digital Automotive
Marketing, a digital marketing agency dedicated to helping independent
car dealerships fulfil their potential.
I grew up in the car business, working in my dad's dealership, and I've
always had a passion for marketing and technology. I founded my agency
in 2020 and since then, I've been working with dealerships across the US
and UK, helping them reach more customers and sell more cars through
digital marketing.
When it comes to Facebook Live, I'm a true expert. I've seen the power
of Facebook Live firsthand, and I'm passionate about helping dealerships
make the most of this incredible tool. I understand the challenges that
dealerships face and how to overcome them, and I'm always looking for
new and innovative ways to help my clients succeed.
I'm not afraid to challenge the giants in the industry and I'm always
doing things differently. My positive and scrappy attitude, combined
with my years of experience in the car business and my marketing
know-how, make me the perfect guide to help you get started with
Facebook Live.
What is Facebook Live?
Facebook Live is a feature of the Facebook platform that allows users to
broadcast live video to their followers and friends. It's a game-changer
for car dealerships looking to reach more customers and sell more cars.
Facebook Live offers an unprecedented level of immediacy and
interaction, allowing car dealerships to connect with their customers in
real-time and showcase their inventory and services in an engaging and
authentic way.
Why would a car dealership use Facebook Live?
By using Facebook Live, car dealerships can showcase their inventory and
services, promote special offers and events, answer customer questions,
provide virtual tours of the dealership, and much more.
Facebook Live videos have the potential to reach a large and engaged
audience, with notifications being sent out to followers when a
dealership goes live.
This, combined with the interactive nature of Facebook Live, makes it a
potent marketing tool for car dealerships looking to connect with
customers, build their brand, and drive sales.
Will using Facebook Live Result in more sales?
Well, I've got good news for you, my friend! Facebook Live is will
result in more sales for your dealership. It's a matter of time and
how much you can commit.
See, Facebook's algorithm loves live videos – it gives them a little
extra boost in the newsfeed. That means more eyes on your dealership and
more potential customers, which is always a good thing.
But here's the real advantage, Facebook Live gives you the opportunity
to respond to customer questions in real-time. This is a game-changer
for car dealers. You can answer questions, clear up any confusion, and
even make a sale right on the spot!
Just think, no more missed calls or emails – Facebook Live is like
having a virtual salesperson on duty 24/7. And as someone who's grown up
in the car dealership game, trust me, that's a boost for any dealership.
Overview of the various types of Facebook Live videos and when to use them
The various types of Facebook live videos I recommend to the car
dealerships I work with are:
Promotions and Special Offers
Inventory Showcases: Want to show off your latest and greatest
rides? Facebook Live is your ticket to a virtual car show! Give your
customers a tour of your dealership and let them dribble over your
latest inventory. Remember to focus on the features that make each car
special and make sure you show off those sweet rims.
Behind the Scenes: Take your customers on a tour of your
dealership's inner workings! Let them see what happens when the lights
go out and the doors close. Show them your team, your process, and maybe
even a bit of harmless mischief. Just don't let the boss catch you,
okay?
Q&A Sessions: Let your customers ask you anything and everything
about buying a car. Facebook Live Q&A sessions are a great way to build
trust and demonstrate your expertise. Just make sure you're ready for
any curveballs, because you never know what people will ask!
Promotions and Special Offers: Got a killer deal you want to share
with the world? Facebook Live is the perfect platform to do just that!
Show off your latest promotions and special offers, and make sure you
give your customers a reason to hurry in. Just don't forget to shout
"limited time only!"
Community Events: Show your customers you care about the community
by highlighting events you're participating in or hosting. Facebook Live
is a great way to show your support, give back, and get your
dealership's name out there. Just remember to have fun, because that's
what it's all about!
How to Set Up Facebook Live for Your Car Dealership: A Step-by-Step Guide
In short, here are the steps you should take to set up Facebook Live
videos for your car dealership:
Set up a Facebook Business Page for your dealership
Understand Facebook Live video requirements
Set up your equipment and preparation tips
Go live
Interact with your audience
End the live video
Save and share the video
1) How to set up a Facebook Business Page for your Dealership
If you want to get the most out of Facebook Live, you gotta set up your
Facebook page properly. I'm talking about a page that showcases your
dealership in the best light possible and makes it easy for customers to
get in touch. Think of it like setting up a fancy display in your
dealership's showroom – you want everything to look just right.
Now, I know setting up a Facebook page can seem a little overwhelming,
especially if you're not exactly a tech wizard. That's why I've put
together a step-by-step guide on how to do it right. Check it out here:
https://gl.digital/blog/car-dealer/facebook-page-guide/. Trust me,
your Facebook Live videos will thank you for it!
2) How to Understanding Facebook Live video requirements
I know, the technical side of things isn't everyone's cup of tea, but
don't worry, I got you! I'm here to break down the requirements for
Facebook Live videos into a language we can all understand.
So first, let's talk about the technical specs for your videos. For a
car dealer who just wants to get started with Facebook Live, here's the
simplified version:
Use a vertical video shot on a smartphone, either front or rear facing
camera
Keep the key frame size between 2-4 seconds
The video resolution should be 1080p @ 60 fps, with a bitrate of 15
Mbps max
The video format should be H.264 encoded and the audio should be AAC
encoded
Keep the video under 8 hours long
The aspect ratio should be 16:9 for best results.
Now, let's talk about the content. Facebook has some strict policies
in place, so make sure your videos are in line with their Community
Standards, Terms of Service, music guidelines and so on. Basically,
just keep it clean and make sure it's in line with Facebook's privacy
policy. Easy peasy!
3) Set up your live streaming equipment and preparation tips
You don't need to break the bank and invest in expensive video equipment
to get started with Facebook Live. In fact, the most important piece of
equipment you'll need is already in your, (and your salesman's) pocket!
Yes, I'm talking about your trusty smartphone.
Most modern smartphones come with decent cameras and have more than
enough power to live stream to Facebook. So, before you hit that "Go
Live" button, there are a few things you need to make sure are in place.
Here's a handy list of preparation tips to get you started:
Charge your phone or bring a power bank. You don't want to run out
of juice mid-stream!
Make sure you have a good internet connection. A strong Wi-Fi
connection is ideal, but if you're on the move, make sure you have a
strong mobile data connection.
Light your surroundings. Car showrooms are usually poorly lit, so
use a lamp or find a brighter location. Natural light is always a
winner, but make sure the sun isn't shining directly onto your face.
Clean your lens. You don't want smudges or fingerprints ruining
your video.
Test your audio. Check that your phone's microphone is working
properly and that your surroundings aren't too noisy.
Check your framing. Make sure the camera is level and that you
have enough headroom.
With these tips, you're ready to go live and show the world what your
car dealership is all about. Get ready to interact with your audience
in real-time and have a little fun while you're at it!
4) Step-by-step Instructions on how to go live on Facebook Live from a mobile device as a Car Dealer
Here's exactly how to start your Facebook Live video from your car
dealership's Facebook Page. You don't need any fancy equipment, just
your trusty iPhone will do the trick.
But before we jump into the nitty-gritty of going live, let's make sure
we don't make a rookie mistake. Don't go live from your personal
profile! That's right, Facebook wants you to keep your cat videos and
political rants separate from your dealership's business.
So, how do you go live from your dealership's Facebook page? It's easy
peasy!
First, make sure you have access to your page, then head over to the
Facebook app on your iPhone.
Now, this is where things can get a little tricky. You want to make sure
you're on your dealership's page and not your personal profile.
To switch, tap on your profile picture at the bottom of Facebook,
select your page, and voila! You're now in business mode.
Next, tap on "What's on your mind?" at the top of your feed, then
tap on "Live video."
You can add a description to let people know what they're about to see,
and you can even add some fun effects to spruce things up.
And when you're ready to show the world what you've got, just tap
"Go Live" and you're off to the races.
When you're ready to wrap things up, just tap "Finish" in the bottom
right corner. And that's it! You're now a pro at going live on Facebook.
So get ready to show the world your dealership's latest and greatest!
5) How to interact with your audience on Facebook Live as a Car Dealer
Now, I know what you're thinking, "Gary, how do I talk to my customers
while I'm live?" Well, it's as simple as taking a spin around the car
showroom.
Just like when you have a customer walk in, you greet them and chat with
them, right? Well, it's the same with Facebook Live! You can see
comments roll in in real-time and respond to them as they come in. It's
like having a customer right there in front of you, but instead, they're
tuning in from the comfort of their own home.
Interacting with your audience during a live stream shows that you're
paying attention and care about their needs and wants. Plus, it's a
great opportunity for them to ask questions and for you to showcase your
expertise, even if it's just a quick "Thanks for the question!" This can
go a long way in building a loyal customer base.
6) How to end your Facebook Live as a Car Dealer
It's time to say farewell to your live audience! When you're ready to
close the show and take your final bow, just tap that magic button in
the bottom right corner of the screen. Yes, you guessed it, it's called
"Finish"!
Just imagine, you've had a blast talking about the latest models and
showing off the interior features, but it's time for the next
performance. So, don't get all teary-eyed, just hit that button and end
the show with a bang!
Trust me, your audience will be back for more. Just like a Saturday
night at the cinema, you'll leave 'em wanting more. So, don't forget,
when the time comes, just tap "Finish" and you're done!
7) How to Save and share the Facebook Live video after it's ended
So you've just finished your latest and greatest live video, now what?
Well, I've got some good news for you. Once you've finished your live
stream, Facebook is kind enough to automatically upload that video to
your profile, Page, or group.
Now, if you want to spread the joy and show off your video to the world,
just head to your Page, find the post and click on "Share" in the bottom
right corner. Voila! Your audience will never forget the moment they saw
the car of their dreams being presented to them in all its glory.
Best Practices for Maximizing Your Facebook Live Reach and Engagement: Boosting Your Videos
Alright dealers, let's get your Live videos seen by more folks than just
your grandma. Here are some tips for promoting Facebook Live videos
Post about it in advance on your Facebook page
Use Facebook live Interactive Features
Repurpose the Facebook live videos after they have ended
Post about it in advance on your Facebook page
The first tip is to shout it out from the rooftops… or in this case,
your Facebook page. Make sure to post about your upcoming Live video in
advance, giving folks a heads up on when and what you'll be talking
about.
Another great way to reach more viewers is to get your current followers
to spread the word for you. Encourage them to share your Live video with
their own followers, using that trusty 'Share' button.
And don't forget the power of hashtags! Using relevant and popular
hashtags can help your video get discovered by folks who aren't already
following you.
How to use Facebook Live interactive features
So you want to spice up your Live videos and get folks engaged?
Facebook's got you covered with interactive features like live polls,
Q&A sessions, and even guest co-hosting.
Just think, you could ask your viewers which car they'd like to see next
on the showroom floor, or let them ask you anything about the business.
It's a great way to make your audience feel like tey're a part of the
action.
"And the best part? All of these interactive features can be added
during the Live video or afterwards, giving you the opportunity to keep
the conversation going and keep folks engaged.
Strategies for repurposing Facebook Live videos
So you had a great Live video, but don't think the fun has to end there.
There are a ton of ways to keep the content alive and reach even more
folks.
One option is to turn your Live video into a highlight Reel, showcasing
all the best moments in a shorter, more shareable format.
Read all about how to use Facebook reels for car dealers
here.
Or, if you want to dive deeper into a certain topic, consider editing
your video into individual clips on specific topics. This way, you can
share specific bits of information that your audience may have missed
during the live stream.
And don't forget, you can also use your Live video as a way to drive
traffic to your website. Just include a call-to-action in the video,
encouraging folks to visit your site for more information.
Conclusion to 2023's Must-Read Guide to Facebook Live for Car Dealerships
So, there you have it folks, the ultimate guide to Facebook Live for car
dealerships. If you're still intimidated by the thought of going live,
remember this: it's just like talking to your customers, but with a few
extra bells and whistles. And hey, if you mess up, it's not like the
whole world is watching, just your local area, so don't be too hard on
yourself!
So, grab your smartphone, hop on the driver's seat, and take your
dealership's online presence to the next level with Facebook Live!
Whether you're showcasing a brand new model, or just having a chat with
customers, Facebook Live provides endless opportunities to connect with
your audience and drive business. So, rev up those engines and let's get
started!
Expert advice
You're reading the GL Digital blog, where auto marketing experts share proven tactics to grow your dealership.
Struggling to make good video?
Sometimes it feels like posting on TikTok is a waste of time.
Build a powerful local brand and watch customers roll in from TikTok.
About the author