The Car Dealer's Guide to Facebook Watch in 2023: Boosting Your Business with Video Marketing
Published 03/02/2023 - Updated 28/07/2023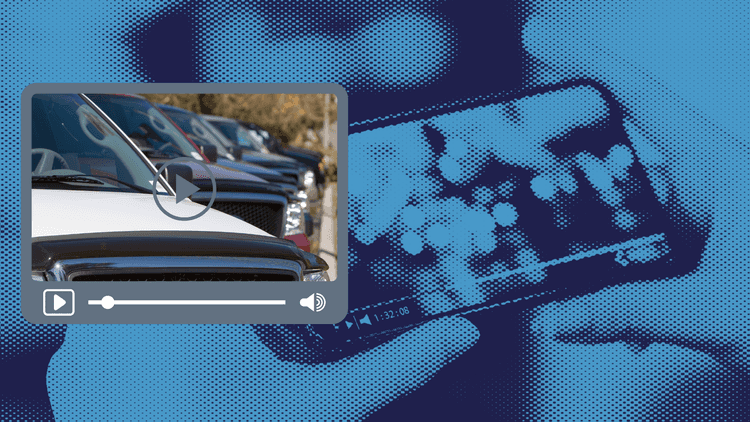 Here is a comprehensive guide that will help car dealerships harness the
power of Facebook Watch (also known as Facebook Video) to reach more
customers and increase sales.
The article will cover the basics of Facebook Watch and how it can be
used to promote car sales, as well as provide tips and strategies for
creating engaging video content that will help attract and retain
customers.
Whether you're a small independent dealership or a large franchise, this
guide will provide you with the tools and knowledge you need to take
your car sales to the next level with Facebook Watch.
What is Facebook Watch for Car Dealerships?
Facebook Watch is a video service that was launched by Facebook as its
answer to YouTube. It allows users to watch videos, live streams, and
other types of content on the platform. For car dealerships, Facebook
Watch provides a unique opportunity to reach and engage with potential
customers through the use of video marketing.
The special power of Facebook Watch, which is what the dealers we work
with benefit most from, is the algorithm that sends lots of viewers, for
free, to watch your videos. We will talk about how you can create videos
that take advantage of this algorithm to supercharge your business.
You can create Facebook Videos for showcasing new inventory,
highlighting special deals and promotions, and creating
behind-the-scenes videos about the car buying process at your
dealership.
By leveraging the power of video on Facebook, car dealerships can create
a more personal connection with their audience, build brand awareness,
and drive sales. Additionally, Facebook Watch's targeting and analytics
features allow car dealerships to reach specific audiences and measure
the success of their campaigns.
Who has written the article "The Car Dealer's Guide to Facebook Watch 2023: Boosting Your Business with Video Marketing"?
Hi there! I'm Gary Lewis Cheetham, an automotive marketing specialist
with over 10 years of experience in the car industry. I founded GL
Digital Automotive Marketing, and now I help independent car dealers in
both the UK and US with online marketing strategies.
My goal is to help car dealers like you boost sales and reach new
customers. I have a strong connection to the car industry, having worked
in my dad's dealership from a young age. My passion for the industry has
only grown stronger over the years, and I put my knowledge to good use
by developing effective strategies for engaging potential customers and
building a strong online presence for car dealerships. I also stay ahead
of the game by incorporating the latest technology, such as Facebook
Watch, into my approach.
Let's work together to take your car dealership to the next level!
Setting Up Your Car Business on Facebook Watch: A Step-by-Step Guide
To get set up on Facebook watch, you need to first make sure you have a
Facebook page.
For a full guide on how to create and optimise your Facebook page, you
can read our article on the subject
here.
Once your Facebook page is created, the next step is to create and post
a video to Facebook watch.
How to Create Engaging and Relevant Facebook Video Content for Your Car Dealership
Listen up car dealers, because I'm about to drop some truth bombs on
you. Nobody cares about your shiny cars or your amazing deals.
Sure, they're important, but let's be real, you're not the only
dealership out there.
So, what's the secret to standing out? Emulating shows like American
Chopper or Wheeler Dealers.
Think outside the box and give your audience something different,
something exciting.
Show them the behind-the-scenes action, the blood, sweat and gears of
your dealership.
Make them laugh and make them feel like they're part of the team. That's
how you'll truly make an impact and boost your business.
Do you need a good camera before you start?
You don't need a fancy camera to make a great video. In fact, you don't
even need a camera at all. That's right, I said it. A smartphone is all
you need.
Don't let procrastination set in because you're waiting for that shiny
new camera to arrive. Use what you've got and start filming today.
Remember, it's not about the equipment, it's about the content. So don't
wait any longer, grab that smartphone and start creating some killer
video content for your dealership
What format should you post videos to Facebook Watch in?
Post your videos in landscape (16:9) aspect ratio. If you're going to
shoot them, make sure you put your phone in landscape mode.
Some ideas of content you can post on Facebook Watch as a car dealership
Here are 5 ideas that you can steal from us and use right now for your
dealership. We've used variants of these for real dealerships we work
with.
"Behind the Scenes at the Dealership" – Give viewers a sneak peek of
what goes on behind the scenes at your dealership, from the moment
the cars arrive on the lot to the moment they drive off with a new
owner.
"Test Drive Challenge" – Put your sales team to the test by having
them take customers on a test drive and see who can close the deal
first.
"The Great Car Debate" – Pit different cars against each other in a
debate format, with your team members as the debaters, and let the
viewers decide which car comes out on top.
"The Car Makeover" – Take a beaten-up car and give it a complete
makeover, showing the before and after transformation.
"The Car-aoke Challenge" – Have your team members sing their
favourite songs while detailing a car, and let the viewers vote for
the best performance.
How to post your video to Facebook Watch
Once you have created your video (following the tips we outlined above),
posting a video to Facebook Watch is relatively straightforward.
You will need to access your Facebook page on a desktop and navigate to
the 'Watch' tab.
From there you can click "Upload Video" and upload your video straight
away, or you can click on the "Visit Creator Studio" button for more
options.
We recommend you hit the "Visit Creator Studio" button.
Then click "Post video across pages"
From this page, upload your video and make sure you fill out the video
title and description.
Next, add the thumbnail.
What is a video thumbnail in Facebook Watch?
A video thumbnail is an image that shows if the video is loading, or if
the user hasn't clicked on it yet. It's very important as it can offer
the user an incentive to click and watch the video.
How to create your video thumbnail
We recommend you use an online editor like Figma or Canva to create your
video thumbnail. Or, you can hire a designer to make it for you.
The size of your Facebook video thumbnail image should be 1200 x 675
pixels.
Here are some top tips when you're creating your thumbnail:
Include a call to action: Use your thumbnail to encourage viewers
to click and watch your video. This can be done by including a call to
action, such as "Watch now" or "Learn more".
Use a human face: It doesn't have to be yours, you can use a stock
photo, but as long as there is a human face in your thumbnail it makes
people more interested to click on the video.
Use text sparingly: Keep text on your thumbnail to a minimum. Too
much text can be overwhelming and make it hard to read.
Keep it simple and clean: A clean and simple design can be more
effective than a busy or cluttered thumbnail. Make sure the image is
easy to read and understand.
Choosing Facebook Watch video optimise settings
In the next screen, we recommend our dealerships click "Captions" and
choose auto-captions. This is because even if your viewers aren't going
to be deaf who need captions to watch your video, the algorithm will
"read" the captions and it gives a better idea of what the video is
about, which helps the video be shown to more people.
Next, we recommend you click Video Optimisations and check "Auto". This
makes sure all Facebook features that make your video as enticing and
interesting as possible will be enabled.
Choosing Facebook Watch video share settings and publishing
On the final screen, leave all the options checked, and click "allow
other pages to post" on the toggle switches further down.
Do not check "add as a secret video"
We recommend you also click "add to playlist" and create playlist if you
don't have one already.
Now, click "Publish" and your video will go live on the Facebook
platform.
Optimising Your Videos for Maximum Reach and Engagement
You want to make sure your videos on Facebook Watch are reaching the
masses and getting those view numbers through the roof. So, let me break
it down for you in layman's terms.
First, don't be boring. No one wants to watch a video of someone talking
directly to the camera for 10 minutes. Mix it up, add some humor, some
excitement, and some behind-the-scenes action.
Next, use catchy titles and captions. Just like a great headline in a
newspaper, a catchy title can make all the difference in getting people
to watch your video.
Finally, don't be afraid to ask for engagement. End your videos by
asking your viewers to like, comment, and share your videos. It's like
asking for a call to action but in a fun way.
Conclusion: Harnessing the Power of Facebook Watch to Boost Your Car Dealership's Business.
Well folks, there you have it – the ultimate guide to boosting your car
dealership business with Facebook Watch. From creating engaging and
relevant video content, to maximising reach and engagement, you're now
equipped with the knowledge to take your dealership to the next level.
Remember, it's not about the equipment, it's about the content. So don't
be afraid to get creative and think outside the box. And most
importantly, have fun with it! Because let's be real, who doesn't love a
good car video?
Now go forth and conquer the world of video marketing, my car-dealing
friends!
Expert advice
You're reading the GL Digital blog, where auto marketing experts share proven tactics to grow your dealership.
Need Inventory? Subscribe and grow.
Inflation. Supply issues. Every used car dealer feels the squeeze.
Build a powerful local brand and watch used cars roll in. Get 5 free marketing tips to your inbox.
About the author