The Complete Guide to Facebook Business Manager for Car Dealerships (2023): Sell Cars Like a Marketing Pro
Published 10/02/2023 - Updated 28/07/2023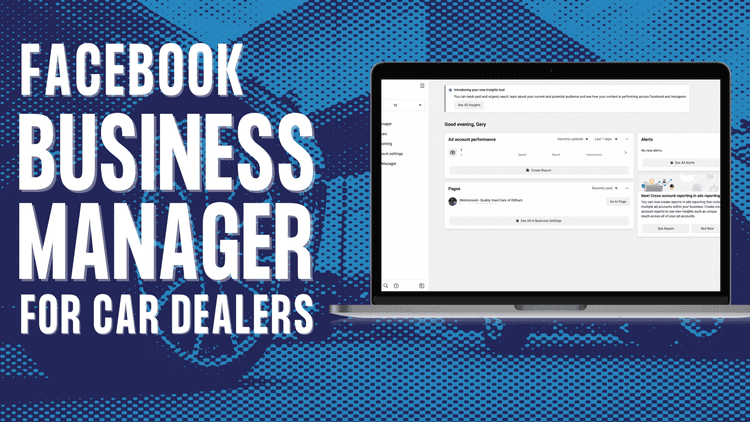 In this comprehensive guide, we're gonna cover everything you need to know about Facebook Business Manager, from top to bottom, left to right. We'll dive into Ads Manager, Business Settings, Events Manager, Commerce Manager, Audiences, Account Quality and all the other bells and whistles that come with this platform. By the time we're done, you'll be a Facebook Business Manager pro and ready to sell those cars like hotcakes. So, let's get started!
What is Facebook Business Manager?
Well, in simple terms, Facebook Business Manager is a platform that allows businesses to manage their Facebook assets and advertising all in one place. For car dealerships, it's the place where you will manage your Facebook page, ad accounts, and events, as well as track your advertising performance and reach your target audience if you are running Facebook or Instgram ads.
As someone who's been in the car dealership game for a while and seen the ups and downs of traditional marketing methods, I can tell you firsthand that Facebook Business Manager is a game-changer.
You see, back in the day, my dad and I ran a successful car dealership, and let me tell you, we did things the old-fashioned way. But these days, things have changed, and car dealerships need to change with them! That's why I always recommend learning Facebook Business Manager to my clients, it's a tool that helps you stay ahead of the curve and reach your customers like a boss!
Who wrote the article, The Complete Guide to Facebook Business Manager for Car Dealerships (2023): Sell Cars Like a Marketing Pro?
Hi, before we continue I should introduce myself, my name is Gary Lewis Cheetham, I am an automotive marketer from Oldham, Greater Manchester in the north of England. I bring a unique perspective to the world of car dealership marketing. Growing up in my dad's car dealership and learning on the job, I have extensive experience in online marketing, website building, SEO, and running successful Facebook and Google ads.
After my dad sold the dealership, I decided to use my skills to help other car dealerships improve their sales and online presence. That's why I started an automotive marketing agency that works with dealerships across the UK and US. With a data-driven, analytical approach, I help car dealerships get ahead of the competition and drive sales.
And now, I'm sharing my expertise on Facebook Business Manager, providing car dealerships with a complete guide to making the most of this powerful platform.
How to set up Facebook Business Manager for your dealership
Getting started with Facebook Business Manager is a breeze! Here's how you can set up your account in just a few easy steps.
First, go to business.facebook.com/create and click on "Create Account".
Next, enter your name and log in with your Facebook credentials to confirm your identity.
Finally, just follow the prompts to finish setting up your account.
Now, if you're working with other businesses or agencies, there may be some different steps you need to take, but don't worry, Facebook will guide you through everything you need to do.
How to add your dealership staff as team members on Facebook business manager
Adding your dealership staff to Facebook Business Manager is a piece of cake, I promise. Here's a simple rundown for you:
Log into your Facebook Business Manager account and go to "Settings" then "People and Assets" and finally, "People."
Next, assign the proper role permissions to your authorized staff members for your ad accounts and Pages.
Connect any Instagram business accounts you may have through "Business Settings" and "Instagram Accounts."
Make sure to have at least two team members as Business Manager admins and add the rest as Business Manager employees.
5. To connect your Facebook Page, go to "Pages," select "Add new Pages," and then "Claim a Page." If you're already a Page Admin, your claim will be automatically approved. If not, the current Page Admin will receive a notification to approve the request.
6. Finally, to add an ad account, go to "Ad accounts" and select "Add new ad account." You can either add an account you own by providing the ad account ID, or request access to another Business Manager-owned account. Just remember, the ad account should be owned by the entity that pays the bills!
There you have it! A simple and straightforward guide to adding your dealership team to Facebook Business Manager.
How to set up your payment method on Facebook business manager
So you've decided to take the plunge and start advertising your dealership on Facebook, but you've got one more step before you can start placing your ads: setting up a payment method. No need to worry, this guide will take you through the process in simple, no-nonsense terms.
Adding Your Payment Method: Start by going to your Business Settings, then select Payments and finally Add payment method. Easy-peasy!
Who's in Charge of the Money? For a dealership owner, this will probably be you. Define who will be in charge of your account's finances in the "Finance roles" section. Select "Finance editor" for those who need to manage the details, and "Finance analyst" for those who just need to see the info.
Assigning Roles: Go to your Business Manager and select People. Then find the team member you want to assign the finance role to and click the edit icon next to their name. In the pop-up window, choose the right role under "Finance role".
Invoices: Make sure to update the email addresses that should receive invoices in Payments – Account credit – Invoice emails. As a car dealership, this will probably be your bookkeeper or in-house accountant's email.
Keeping an Eye on the Books: You can check your balance and payment health in Settings – Payments.
Sharing the Wealth: If you have other Business Managers you'd like to give access to your credit line, like an advertising agency, you can do so from here.
And that's it! Once you've set up your payment method, you're ready to start placing ads and reaching customers like a pro!
What is the Facebook Ads Manager for Car Dealerships?
Facebook advertising is complicated and there are many steps, we have a full guide on using Facebook ads for Car Dealers you can check out for complete details.
That being said, here's a quick summary on how to set up Facebook ads for car dealerships:
The Ads Manager is where you'll create and manage your Facebook ads. To start, create a new campaign and select your objective, such as driving traffic to your website or increasing conversions. Then, define your target audience by selecting demographics, interests, and behaviors.
Next, you'll create your ad by choosing the format, images or videos, and writing the copy. You can preview your ad to see how it will look on desktop and mobile devices. Finally, set your budget and schedule, and hit the "Submit" button.
What are Facebook Business Settings for Car Dealerships?
The Business Settings is where you'll manage all the information about your business, such as your business name, address, phone number, and website. Make sure all the information is up-to-date and accurate, as this will help you build trust with your customers, and prevent you from being banned on Facebook.
What is the Facebook Events Manager for Car Dealerships?
Facebook's Events Manager is a fantastic tool that provides car dealerships with valuable insights into their online marketing campaigns. With the Events Manager, you can see the events that are triggered by your meta pixel, including website views and custom conversions. This is where you can get a real-time view of how your marketing campaigns are performing, and you can use this information to adjust your strategy accordingly.
The meta pixel is a small piece of code that you place on your website. It's used to track events that occur on your website, such as a customer viewing a product or adding a vehicle to their cart. These events are then sent back to Facebook, and you can see the results of your campaigns in the Events Manager. By setting up custom conversions in the Events Manager, you can track specific actions that you want customers to take on your website. This is incredibly useful for car dealerships because you can see which vehicles are generating the most interest and adjust your marketing campaigns accordingly.
So, if you're a car dealer who wants to stay ahead of the game, it's essential that you understand how to use the Facebook Events Manager. It's a powerful tool that can help you optimize your campaigns and get the most out of your marketing efforts. If you want to learn more about the meta pixel and how to set up custom conversions, be sure to check out our full guide at https://gl.digital/blog/car-dealer/ultimate-guide-meta-pixel-conversion-tracking/.
What is Facebook Commerce Manager for Car Dealerships
Are you ready to learn about Facebook Commerce Manager and how it can help your car dealership sell more vehicles? Good news, it's actually quite simple to use and can make a big impact on your marketing efforts.
Facebook Commerce Manager is where you can create your very own catalog of cars, making it easy to showcase your inventory to potential customers. All you need to do is upload images and information about your cars, and Facebook will take care of the rest. With this catalog, you can then create catalog ads that show off your cars to the right people, at the right time.
Think about it this way, instead of having to create a separate ad for each car you have in your inventory, you can now have one ad that showcases all of your cars. And the best part? Facebook will even keep your catalog up-to-date by automatically removing cars that have been sold and adding new ones as you update your inventory.
Don't just take my word for it, check out my full guide at https://gl.digital/blog/car-dealer/ultimate-guide-to-facebook-catalog-ads-for-car-dealers/ for even more information and tips on how to get the most out of Facebook Commerce Manager for your dealership. Happy selling!
How to use Audiences in Facebook Business Manager for Car Dealerships
With the Audiences feature in Facebook Business Manager, you can create lists of people who are likely to be interested in your dealership's cars.
Let's say you have a list of emails and phone numbers from people who have already visited your dealership's website. You can upload that list to Facebook and create a custom audience based on that information. This will help you reach out to people who have shown interest in your dealership and are more likely to make a purchase.
Or maybe you want to expand your reach to people who are similar to your current customers. No problem! Facebook Business Manager's Audiences feature also lets you create lookalike audiences. All you need to do is download your current customer list from your CRM, upload it and Facebook will do the rest. It will find people who have similar interests and behaviors, and you can target them with your ads.
So whether you want to target website visitors or reach out to similar customers, the Audiences feature in Facebook Business Manager has got you covered.
What is Account Quality on Facebook Business Manager
The Account Quality section is where you'll see your account performance and any issues related to your account. Keep an eye on this section to ensure your account is in good standing and to resolve any issues quickly.
When it comes to Facebook Business Manager, account quality is key. Unfortunately, it's not uncommon for Facebook to temporarily ban new accounts. To avoid this, it's best to make sure all the information in your account is accurate and up-to-date, including uploading your government-issued ID such as a driving license.
We've had the unfortunate experience of working with a dealership that had their account banned and didn't appeal within the time frame specified by Facebook. This meant that they were unable to continue running ads on the platform. To avoid a similar situation, it's crucial to regularly check the account quality page and make sure everything is in order.
So, here's the moral of the story: keep a close eye on your account quality page and make sure all the information is accurate. Trust us, you don't want to be like our banned dealership friend! It's always better to be safe than sorry when it comes to your Facebook Business Manager account.
Conclusion to the article "The Complete Guide to Facebook Business Manager for Car Dealerships (2023): Sell Cars Like a Marketing Pro"
I hope I've managed to shed a bit of light on the importance of Audiences in Facebook Business Manager for car dealerships. It's crucial to keep an eye on the account quality to make sure your dealership's Facebook ads are running smoothly and your target audience is being reached effectively.
When it comes to automotive marketing, it's all about being creative, quick on your feet and having a good sense of humour. The world of car dealing is ever-changing and it's important to keep up with the latest and greatest ways to market your dealership. That's why I always encourage dealerships to keep testing and iterating, it's the best way to make sure you're getting the best results.
So there you have it, a little taste of what it's like to work in the world of automotive marketing with us. Remember, if you're looking to give your dealership a boost, the world of Facebook Business Manager is your oyster. Just make sure to keep an eye on that account quality and don't be afraid to be a bit cheeky with your marketing tactics. It's all part of the fun, isn't it?
Expert advice
You're reading the GL Digital blog, where auto marketing experts share proven tactics to grow your dealership.
Struggling to make good video?
Sometimes it feels like posting on TikTok is a waste of time.
Build a powerful local brand and watch customers roll in from TikTok.
About the author