Complete Guide to Growing Your Car Dealership's Facebook Page in 2023
Published 03/02/2023 - Updated 27/07/2023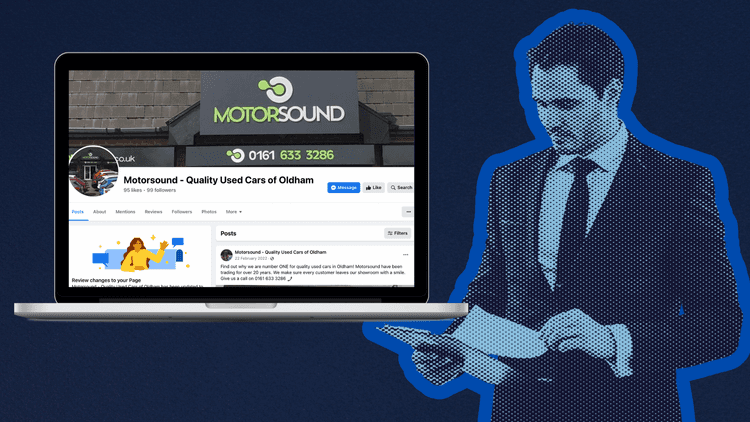 In this guide, we'll be taking a deep dive into the best ways to grow
your car dealership's Facebook page by offering quality and well-planned
content, exploring paid options, using interactive digital PR tactics,
and more.
Is it worth trying to grow your Facebook page and following?
Absolutely. If you're spending the time to run a Facebook page for your
car dealership (which you should be), you need to make sure that your
attempts are worthwhile. This means taking the steps to ensure that
you're doing enough with your activity and profile to grow your page and
its following. Having a Facebook page that you don't update or use to
its full potential can not only put customers off, but also defeats the
point of having a page in the first place.
Why can an inactive Facebook page put potential customers off? Consider
how the modern consumer decides which businesses to support and spend
their money with. They of course want to make sure that they're spending
their hard-earned money with a reliable and trustworthy business, so
they carry out research, and car dealerships are not an exception. This
research includes asking for referrals, speaking to the dealership, and
checking their website and social media profiles. When a website or
social media page is inactive or out of date, this can make the
dealership look careless or even make it appear as if they are no longer
in business.
Who has "Your Guide to Growing Your Car Dealership's Facebook Page" been written for?
This guide has been written with individuals in mind who are responsible
for enhancing any secondhand car dealership's social media presence.
This could be a marketing specialist, administrator, or an owner,
depending on the operations of the dealership in question.
The guide will give you steps, advice, and tactics for growing your
page's presence and following through organic (free) approaches, as well
as paid ads to boost your Facebook footprint.
Who wrote "Your Guide to Growing Your Car Dealership's Facebook Page?"
My name is Gary Lewis Cheetham, and I wrote this article after building
first-hand experience in running digital activity within the automotive
industry. Working as part of my family's automotive business for years,
I have a firm understanding of how to help car dealerships succeed
digitally.
This automotive knowledge, combined with my marketing expertise and
comprehensive proficiency when it comes to using Facebook within this
industry, has allowed me to build proven strategies for dealerships. My
goal is always to help you reach and engage with potential customers,
increase sales and dominate your local area in the online world.
How to ensure your Facebook profile is optimised
Before we look at the steps and approaches for growing your Facebook
presence, you need to make sure that your Facebook profile is properly
optimised. You can find out more about setting up and completing your
Facebook profile in our recent article, Ultimate Guide to Creating and
Using a Facebook Page for Car Dealers in
2023.
How to plan your Facebook social content
You must post regular content to grow your Facebook page. This content
can consist of a variety of post types, including:
Imagery
Promotions
Stock updates
Entertainment
Quizzes
Links to relevant news
Contests
The important thing to remember is that you shouldn't treat your
Facebook page like an advert stream. When it comes to running a
successful social profile, on any platform, for any business, it's vital
that you understand and follow the 80/20 rule. This states that 80% of
your content should be entertainment and education based, while the
remaining 20% should be promotional. The vast majority of your posts
should be aimed at engaging with, entertaining, and educating your
followers. The rest can be more promotional posts, but remember that
nobody wants to be sold to all the time.
The most consistent way to run your Facebook page content is to plan
ahead. Busy day-to-day operations make it nearly impossible for a
dealership to post to their social media accounts on an ad-hoc basis,
despite the best of intentions.
In an ideal world, you'd plan out your posts a month at a time, a month
in advance. This isn't always possible, so even planning all of your
posts for a week is a great start. Something simple, like using an Excel
spreadsheet or an Outlook calendar with your plans, is perfectly
adequate. To make things even easier, you can use posting software, like
SproutSocial or Buffer to automate the posting of your content.
The thing to remember is that you can't grow your following if there's
nothing for followers to interact with and nothing to entice people to
follow you in the first place. Your car dealership's Facebook page
should be a central hub for your customers, giving them helpful and
engaging information, exciting videos about new stock, sharing news
about the makes and models you sell, tips for maintaining their car,
upcoming events through your business, and more.
How to increase your Facebook following with Page Likes Campaigns
Once you're in a good habit of consistently posting content to your
Facebook page and have built a backlog of posts, you can explore paid
options for growing your Facebook following.
Facebook ad campaigns are helpful because there are already several
styles designed, each with a different objective in mind. One of these
existing objectives is to encourage people to follow your page.
This is one of the more straightforward Facebook campaign styles, making
it not only easy to set up and run, but also to analyse how successful
the campaign is. The beauty of this style of campaign is that it can be
quite effective, even when working with a small budget. Even dedicating
£50-100 a month to your Page Likes campaign can make a difference.
You'll need to decide on ad text, imagery or video, and something to
encourage Facebook users to follow your page. The ads will then prompt
people to click "Follow" on the ad, which will automatically make them a
follower of your dealership's Facebook page.
For step-by-step instructions on how to set up a Page Likes campaign, click here.
How to incorporate digital PR tactics for growing your Facebook following
Contests, events, social media takeovers, and YouTube video series are
all examples of PR campaigns with a digital presence that can be used to
build your Facebook following. This might sound more complex than it
really is, and your attempts certainly don't have to entail anything
outlandish.
Examples of digital PR approaches you can use for growing your dealership's Facebook following
Contests and giveaways: Use your social media page to run a contest
or giveaway for new or existing (or both) customers. This could
entail requiring entrants to like and share a Facebook post you
share, or answering a question, or even submitting pictures of their
dream cars. The prize is up to you – offer discounts, car
accessories, or even a free car if it's possible to do so. Posting
regular updates on the contest through your Facebook page, and
requiring entrants to follow your page to participate, will all help
boost your number of followers.
Start a podcast or video series: People who love cars really love
cars. By creating some sort of series that people can enjoy and
talking about it on social media, your Facebook page will, over
time, see a natural increase in followers. Invite industry experts,
mechanics, race car drivers, or anyone relevant to appear on your
series and promote it through both organic and paid approaches.
Partnerships: Developing partnerships in your industry and/or
community can go a long way in raising your dealership's profile.
Whether it's working with a local charity, sponsoring industry
awards, or supporting youth clubs, partnerships and sponsorships can
get you noticed not only through your own Facebook posts but through
other brands' as well.
How to get active in Facebook groups with your business page
Regularly sharing content through posts isn't the only way to keep your
Facebook page profile active. By using your page to interact with people
and groups, you can draw attention to the page, which will over time
lead to more growth.
In addition to individual profiles and business pages, Facebook is also
home to thousands of groups with varied interests, including automotive.
Some of these groups are public while others are private, but usually,
it's not an issue to be granted access to a group as long as it's
relevant to your business' Facebook page.
Once you're in a group, you can get started with interacting to build
relationships and grow your following. Find out how to use Facebook
groups to boost your sales.

Conclusion
Naturally growing your followers takes time, so it's important to not
get discouraged or impatient while working through the process. By
consistently sharing content, being active on your page, finding
creative ways to promote your brand, and exploring paid options, over
time you will find that your following will grow steadily. To discuss
Facebook in more detail, feel free to contact
me.
Expert advice
You're reading the GL Digital blog, where auto marketing experts share proven tactics to grow your dealership.
Need Inventory? Subscribe and grow.
Inflation. Supply issues. Every used car dealer feels the squeeze.
Build a powerful local brand and watch used cars roll in. Get 5 free marketing tips to your inbox.
About the author